[Apollon Records, 2021]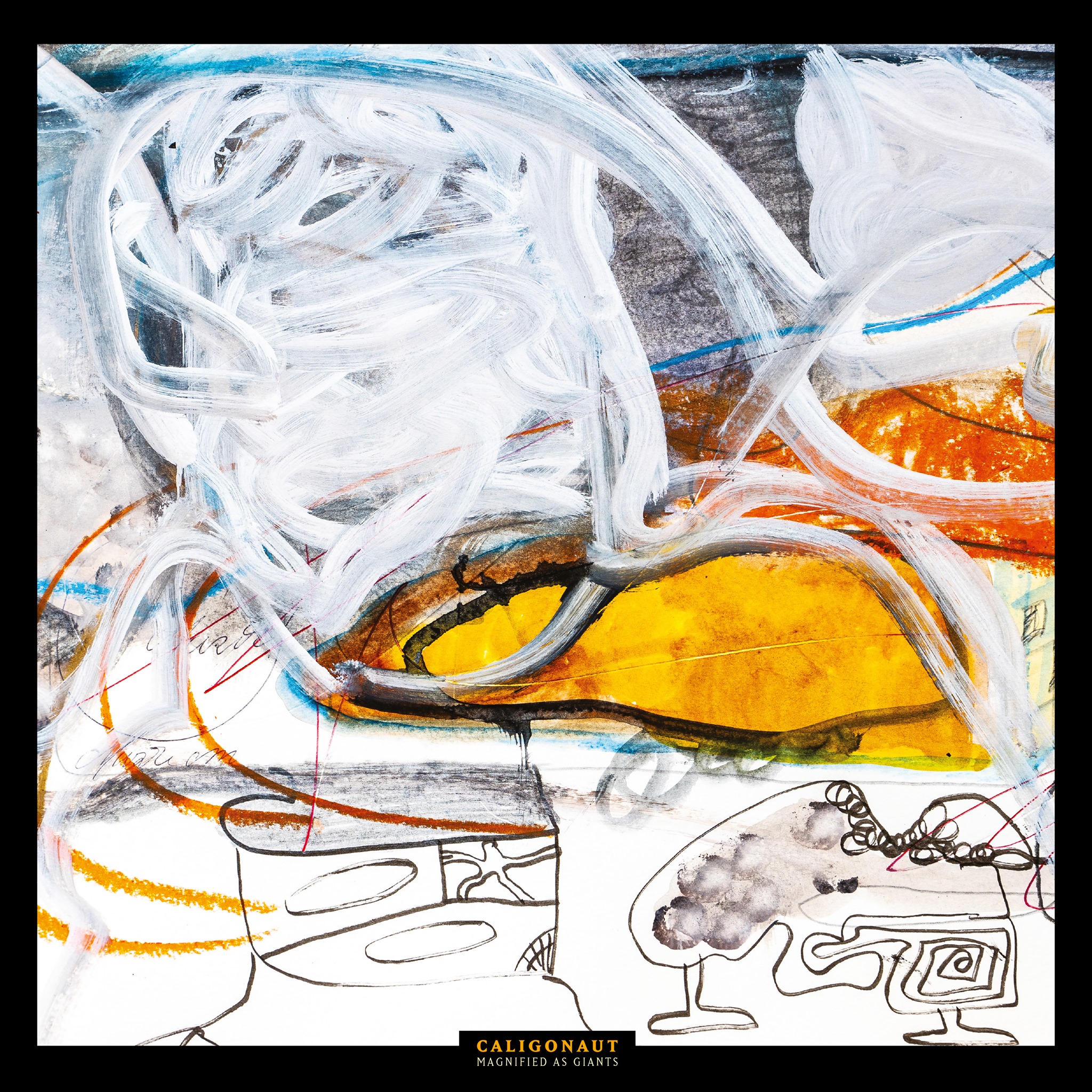 Intro: Thomas Sarakintsis

The newly formed Caligonaut from Norway is the solo project of Gentle Knife, Oak, and Airbag guitarist, Ole Michael Bjørndal. Magnified As Giants is the first album by the active and talented guitarist, with the help of some of his friends and collaborators from Wobbler, Pymlico, Airbag and Meer, as well as keyboardist and composer Iver Kleive. Apart from the amazing bassist Karl Hultgren, Lars Fredrik Frøiislie (keyboards), and Andreas W.S. Prestmo (backing vocals) from Wobbler play here, Åsa Ree on violin and some backing vocals (who also plays in this year's Playing House by Meer), while Henrik Fossum (Airbag) and Arild Brøter (Pymlico) sit behind the drum kit (the first participates in the opening track of the album, while Brøter plays in two of the other three songs). Finally, Stephan Hvinden, another member of Pymlico, participates in the guitars, along with Ole Michael Bjørndal. It is interesting to hear if this interaction can bear fruit.
---
A most pleasant surprise
This album which includes four tracks spanning 50 minutes provides sounds inspired by both the 70s vintage prog and modern prog rock. You can hear different influences during the whole record, from a dark mood reminiscent of King Crimson, the use of acoustic guitars that brings Alex LIfeson (Rush) to mind, the perfect harmony between guitar and the keyboards that evoke the atmosphere of early Genesis, there are some guitar riffs inspired by Black Sabbath but much more important than these is the fact that Ole Michael Bjørndal brought so much originality and creativity to the table. Ole managed to free himself from the "retro trap" by adding some modern prog freshness. He's matured into a fine songwriter while his guitar playing is on a completely new and higher level. Despite his slightly limited vocal abilities, Bjørndal sings in a convincing way supporting his own lyrics.
The great team work is a very strong point of this work, and the fact that the band leader had the musical help of the three members of Wobbler is another reason why this album deserves special attention among prog rock enthusiasts. Their skill and imagination enrich this album and make it more exciting. Hultgren's bass sections are impeccably good, and there are also some really majestic keyboard and mellotron passages played by Lars Fredrik Frøislie. The album is almost flawlessly produced, every instrument can clearly be heard and distinguished in the mix.
The title track is the most accessible here. It has beautiful acoustic guitar playing, a memorable chorus, and a clearly 80s pop background. The two longer songs, Lighter Than Air and Emperor, are beautifully constructed, both painted with numerous tempo and mood shifts, both electric and acoustic segments, some creative vocal harmonies, and great arrangements. As a whole, Magnified as Giants is one of those albums that gets better each time you listen to it. There are so many small and beautiful details that come out gradually on repeated plays. Maybe the album will sound a bit melancholic and monotonous to some prog lovers, but Bjørndal used a beautifully melancholic approach and somber tones to conjure up some strong and painful emotional scars from his past. Thus, the album as a whole has a very intimate, calming effect, and is a wonderful experience.
Magnified as Giants came as a pleasant surprise at the beginning of the year, when we need something honest and emotionally therapeutic to help us through these traumatic times. However, with all the good things this album has to offer, which I'm sure many will like, I give this album my highest recommendation.
8 / 10
Goran Petrić
2nd opinion
For the most part, Magnified as Giants summarizes on the one hand the experience Ole Michael Bjørndal has gained from his collaborations with so many musicians, and on the other hand emphasizes the fact that he does not deviate much from the sound of these bands. Thus, with an expectedly flawless production, the sound combines all the elements that characterize the noticeable mark of Wobbler, Pymlico and the first three Airbag records, with 00s and 10s prog in the style of Opeth. There's a distinguishable mellow element, which coexists with the aforementioned references, a characteristic of the band leader's artistic personality. On the plus side, it's not a good 70's revival album. There are undeniably beautiful points, e.g. in Hushed for example, with the violin, keyboards and solos offering something extra, and also a song that makes a difference; the awesome 20 minute Lighter Than Air with its adventurous climaxes and those symphonic and space parts, a composition that could well replace some of the tracks on the latest Wobbler album. With this exception and given that in the other two tracks there are some interesting moments, the result compositionally and stylistically is somewhat predictable, with the factors of surprise and diversity being more or less absent.
6.5 / 10
Thomas Sarakintsis