[RMV Grammofon, 2022]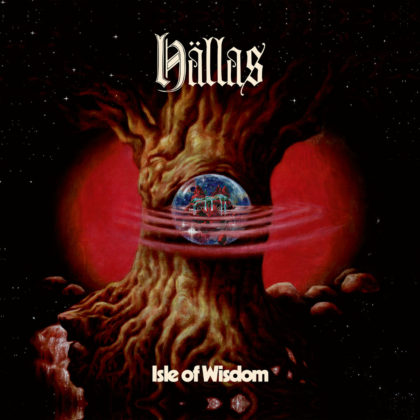 Intro: Dimitris Kaltsas

Hällas was formed in 2011 in Jönköping and are currently based in Linköping, both cities in southern Sweden. The quintet, which has kept its line-up unchanged, belongs to the revival wave of the progressive rock / hard rock sound of the 70s, although their case is quite special. Both the sound and the style of the band are quite unique, while the lyrical part is also very interesting. The band is named after the main character of the stories they tell in their lyrics; Hällas is a knight living in parallel, medieval universe in which "religion similarly, albeit not necessarily the ones we recognize from here, are very prevalent and where treacherous tyrants reign lands on the verge of the apocalypse and where seers have gained so much strength that they can dictate the future and the past".
Seven years after their self-titled debut EP, this year's Isle of Wisdom is the band's third full-length album, two years after Conundrum (check our reviews here).
---
Hällas' simplest and perhaps best record (until the next one?)
You don't need to be wise to realize that this whole '70s revival wave that flourished at the beginning of the previous decade and gradually died out, would create many mediocre cases and some bands that would have a real reason of existence. Hällas from Sweden had shown from the first moment that their potential was limitless, since they were not interested in creating a vintage aesthetic alone, but above all to create great music, equal to that of the behemoths from which they borrowed the color of their music. And consistently, from Excerpts From a Future Past (2017) to Conundrum (2020) they experimented with how that would happen. Sometimes leaning towards heavy prog, other times more proto-metal, with an emphasis on rhythm or with the attention focused on the melodies, each piece they wrote had its own concept and its place on two almost perfect records. And they return with Isle of Wisdom to surpass what they had done, creating a record that tends to remind us of several classic hard rock records of that legendary decade.
Exactly where Wishbone Ash meets Uriah Heep and Yes meets ABBA, you will find the influences of the Swedes in this record as well, only this time the compositional level is much higher. A prime example of this, the song The Inner Chamber which in its seven-minute duration includes all these references (starts with the epic romance of Wishbone Ash, passes from the prog of Yes to the heavy sound of Uriah Heep while closing with a disco keyboard) in such a way that the result now has a completely new character, that of Hällas. Besides, there are more epic, proto-metal moments, with Earl's Theme stealing the show with triumphantly introduced rhythmic riffs that gradually build the atmosphere that are, keyboard paeans, a simple but emphatic chorus and choral vocals that transport you in the court of some Viking… earl.
Hällas, while not sounding like a pure prog rock band (their compositions are not based on labyrinthine structures that you find on respective records of Camel, Gong and Eloy), finally find a way to connect folk, space and epic textures while maintaining the directness they wish to have in their songs. The unique effect obtained on Isle of Wisdom requires a few listens to appreciate its value, and this only happens in cases where we are dealing with a more than "just good" record.
9 / 10
Alexandros Topintzis
2nd opinion
In their third album, Hällas leave aside the intense space, pop and prog elements that have characterized their releases until now and deliver the most solid album of their career so far. The songs are direct and thoroughly worked, the melodies, either in the form of a guitar solo or from keys which are in the forefront, are special and stick in your head straight away. Earl's Theme and The Inner Chamber are typical examples. Also, the very different and somewhat not technical vocals on Isle of Wisdom add more to the album, because the record has a proto-metal feel and in songs like Stygian Depths and Advent of Dawn they give character and dynamics. Overall, the whole record reminds us of Wishbone Ash and that in itself is a great credit to the Swedes, but I personally miss their proggier moments, even though I really like the record. With this great release, Hällas capitalize on their very good era, and even though the album seems safer than its predecessors, it might be the one that will be remembered more than the rest.
8 / 10
Giannis Voulgaris