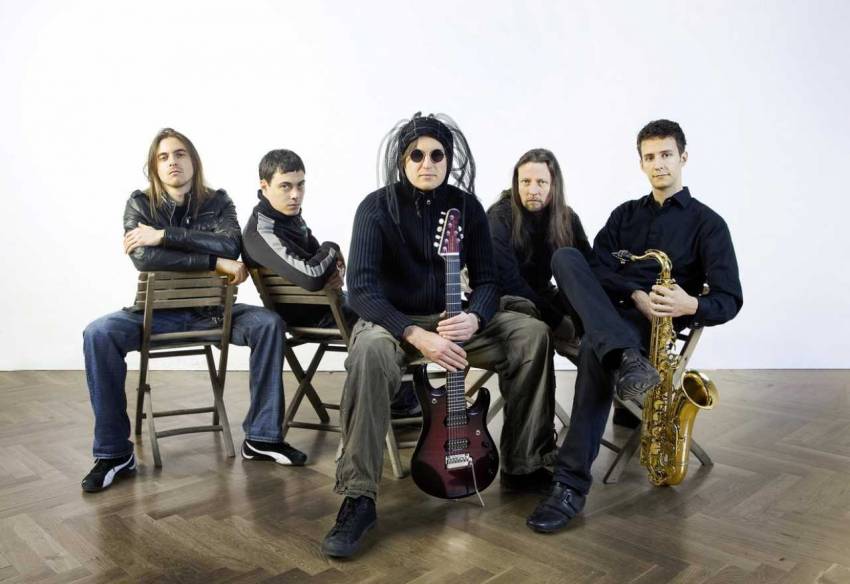 That Panzerballett mastermind Jan Zehrfeld does not shy away from difficult musical experiments was and is a fundamental principle of Panzerballett. After the last album X-Mas Death Jazz, however, one could well ask oneself if and to what extent this could be topped. Not only drummer Sebastian Lanser had set the bar very high with his drum arrangements. So Jan Zehrfeld came up with a new, crazy plan: to bring together the most experienced drummers of their kind on this new Panzerballett album. But that's not where his own reinvention ends. In addition to his own pieces, this time he had to record custom-made works of highly esteemed composers to the highest perfection.
A whole handful of world-class drummers from the circle of prog, jazz and fusion legends such as Frank Zappa, Devin Townsend, Meshuggah and Allan Holdsworth, will be performing on Planet Z. And Jan Zehrfeld succeeds in combining rhythmic lunacy and compositional shamelessness in one "unheard of" album. For what Jan "Z" does together with drummers Marco Minnemann, Virgil Donati from Planet X, Grammy Award winner Morgan Ågren – ennobled by Zappa, Gergo Borlai from Tribal Tech and regional representatives Hannes Grossmann – Blotted Science – and Andy Lind on Planet Z is simply brimming with "unheard of".
The tracks in Planet Z are original compositions as well as covers of compositions by Nélida Béjar, Martin Mayrhofer, Leonhard Kuhn, Jeff Novotny, Richard Wagner, Andy Lind and Simon Backes. Planet Z will be released on September 18 through Gentle Art Of Music on 180g vinyl, digipack CD, and digital format.
Like the musical performance, the production and sound of the album are on the highest level. Despite the completely different line-up, sound engineer Victor Bullok succeeds in creating a homogenous sounding album. An astonishing achievement when you consider that all musicians have recorded themselves.
Panzerballet Planet Z is state of the art, which is musically possible in the field of tension between jazz, fusion and heavy metal. Simply a fascinating album, which is a must for fans of prog, jazz rock and metal.
tracklisting:
1. Prime Time
2. Who The Jack Is Migger
3. Mind Your Head
4. No One Is Flying The Plane
5. Walkürenritt
6. Urchin vs. Octopus
7. Alle meine Ändchen
8. Coconut
9. SOS
line-up:
Jan Zehrfeld – guitars (all tracks), bass (except 1, 4)
Drums:
Virgil Donati (1)  
Marco Minnemann (2, 8)  
Morgan Ågren (3)
Gergo Borlai (4, 6, 9)
Hannes Grossmann (5)
Andy Lind (7)
Sax:
Florian Fennes (1, 3, 5, 7)
Sam Greenfield (2, 8)  
Georg Gratzer (9)
Anton Davidyants – bass (1, 4)      
Joe Doblhofer – guitar solo (#1 on 2)
Jan Eschke – piano (4), synth solo (7)   
Michael Lutzeier – bari sax solo (4)
Horn section on (4):
Larry Muñoz (saxes), Mark Oates (trumpets)
The band released a video for Mind Your Head featuring Morgan Ågren on drums.
tour 2020:
4 Oct 2020 | Würzburg, Immerhin
5 Oct 2020 | Fürth, Kofferfabrik
6 Oct 2020 | Prague, Rock Cafe
7 Oct 2020 | Rüsselsheim, Das Rind
8 Oct 2020 | Regensburg, Leerer Beutel
11 Oct 2020 | Berlin, Maschinenhaus
12 Oct 2020 | Hamburg, Logo
13 Oct 2020 | Bremen, Meisenfrei
20 Oct 2020 | München, Backstage Club
21 Oct 2020 | Zürich, Exil
22 Oct 2020 | Reutlingen, franz.K