[Karisma Records, 2020]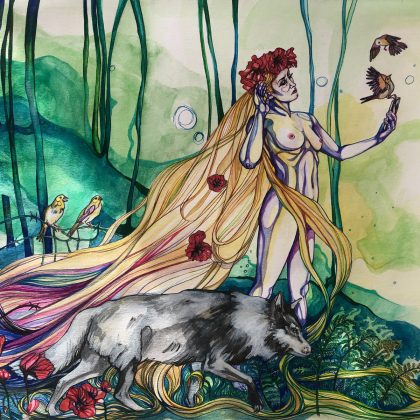 Intro: Thomas Sarakintsis

The extremely interesting movement in the contemporary Norwegian scene and in the various aspects of prog rock is very well known. In their latest releases, Arabs in Aspic from Trondheim, oscillate between underground prog and a wider acceptance through a commercial break, without faithfully following in the footsteps of the great Norwegian prog tradition. Their aesthetic sign has been clearly British with striking influences from the 70s prog rock and heavy rock giants. Being absolutely consistent and faithful to their artistic plan during the last decade, they return three years after the wonderful Syndenes Magi (our reviews here), with their sixth album, entitled Madness and Magic. It is very interesting to find out if they remain equally faithful to the style of their previous records.
---
Artistic repository of musical magic
The covers of Arabs in Aspic albums are more than interesting. In half of them, the visual epicenter is a female figure, and aspects of female nature are depicted through a peculiar mixture of mannerism and naturalism, sometimes with metaphysical and sometimes with more impressionistic ends. The same goes for Madness and Magic, a title that directly refers to Philip Dossick's book about the famous Dutch painter Vincent Van Gogh. In the very interesting – and open for various interpretations – cover of their new album, a female existence depicts the contemporary digital superficiality and selfies, while nature remains a heartfelt helper of this narcissistic figure.
Based on the titles of their last two albums, Arabs in Aspic address the issue of insanity and magic seen through the prism of human social evolution. Lyrically, Madness and Magic highlights issues such as childhood innocence, technological determinism and how technology absorbs man from childhood to the end of his life.
The line-up of the Norwegians includes a guest member, turning the quartet into a quintet. Now, along with drummer Eskil Nyhus, percussionist Alessandro G. Elide has been added, providing an unexpected element in the rhythm section.
Before listening to the opening track with the partially paraphrased but insightful title I Vow to Thee, My Screen (deriving from the British patriotic anthem I Vow to Thee, My Country; Arabs in Aspic follow the prototype with slight changes), I had strong reservations about the artistic direction. Suddenly, you are overwhelmed by an almost hedonistic shiver. A broody mood accompanied by acoustic guitars and a deconstructed heavy prog background. A dark song with a suspicion of psychedelia, which sums up a combination of Genesis, Gentle Giant, King Crimson and Pink Floyd. Especially the unprecedented Gentle Giant influences in several parts of the album are spot on and really substantial.
Moods change drastically in Lullaby for Modern Kids, Part 1, where the lyrics and music breaks cause spiritual and emotional outbursts. Polyphonies, classicish themes, hammond organ along with Jostein Smeby's bittersweet guitar interventions build a shocking piece of intelligent heavy prog. The lyrics of Lullaby for Modern Kids, Part 2 haunt the listener: it's a foggy interlude accompanied by acoustic guitars, percussion and flute sounds played by keyboards, whereas the high-tech funky beat in High Tech Parent suggests a supertight prog band.
Special mention should be made to the last two most magnificent songs of the album, Madness and Magic and Heaven in Your Eye. These two compositions offer a multi-layered package of attractive prog manifestations and sum up the band's refreshing style. In the title track we once again hear an introduction with acoustic guitars and an intangibly dancing guitar melody of Smeby, suitable to be quietly murmured non-stop. The most complete and best song on the album and perhaps the band's best song in general, is Heaven in Your Eye. A mosaic of hedonistic arpeggios, oriental references, perfectly matched lead and backing vocals, extraordinary performance by Stig Jørgensen on the keys and few but noticeable 70s Bowie elements. Exemplary multifaceted prog played with passion, with constant change of styles and moods.
This is the second in a row amazing album by Arabs in Aspic, but the new one captures even more elegant and up-to-date vintage prog. The Norwegians have deviated from the norm, glancing to other versions of prog rock. Indulge in Madness and Magic. It's an album that balances perfectly between the exciting and the essential.
9 / 10
Thomas Sarakintsis
2nd opinion
In the sixth studio album of Arabs in Aspic, the structure of the songs is more mature than ever and the level of songwriting impresses even the most moderate prog listeners. The expansion of the band's musical expression obviously contributed to this. The once solid heavy prog style of the Norwegians here shares space with extensive acoustic parts and even funk / soul (High Tech Parent), in a mysterious, smooth, epic, heavy and very melodic result with impeccable production and orchestration (Alessandro G. Elide's percussion was a wise addition). In this incredibly balanced album, the almost 17-minute Heaven in Your Eye steals the show and is added to the list of the top prog epics since 2000.
The triumph of Smeby, Jørgensen, Paulsen and Nyhus is not coincidental and stems from over 10 years of coexistence and hard work. Rarely do we hear so unpretentious progressive rock that amuses, entertains and concerns us so effortlessly. Of course, the sound of the band remains vintage, and even if someone believes that nostalgia for the music of Pink Floyd and Genesis is a disadvantage, the certainty that you are listening to classic 70s songs rather than a 2020 release outweighs everything else.
9 / 10
Dimitris Kaltsas