By Tasos Poimenidis
Sunnata and Weedpecker share many similarities, as they are come from the same country, Poland, they've released three full-length albums, and both have members of the broad stoner rock scene. Their decision to go on a tour together and pass among others through Greece, in Athens and Thessaloniki, was a first-rate opportunity to witness the dynamics of both bands from up close.
Sunnata hit the Death Disco stage at 21:25 and set off their set. The sound, which at first was moderate, made a lot of progress along with the band's energy and the positive reaction of the audience. It was a very good show that, as I realized from the warm applause of the audience, fully satisfied those who chose to find themselves at the concert on Thursday night. The sound of Sunnata is very heavy, the tracks are long with repeated and almost hypnotic themes, while sludge and doom metal are the dominant elements in their music, along with post-rock strokes and very intense oriental elements. From the little contact I have had with their material up to now, I can say that they make a much greater impact live than studio in terms of performance. By the way, check the artwork of their albums, it is fantastic to say the least.
After the one-hour set of Sunnata, it was time for Weedpecker to appear on stage. They performed really well, though they weren't as tight as Sunnata, but with a sound that I personally like much more than that of their compatriots, with intense psychedelic and progressive rock elements. The twin guitars worked very nicely in the majority of the set in which their beautiful album III (our reviews here) dominated the setlist. The vocals are not their strong point in the albums, and that was also evident on the stage of Death Disco. Besides, the atmospheric element was a bit weaker, but they gained a lot on energy regarding both their performance and their stage presence and they seemed to be enjoying what they were doing to the fullest. Weedpecker is a band that has the potential to make the big break on its next album.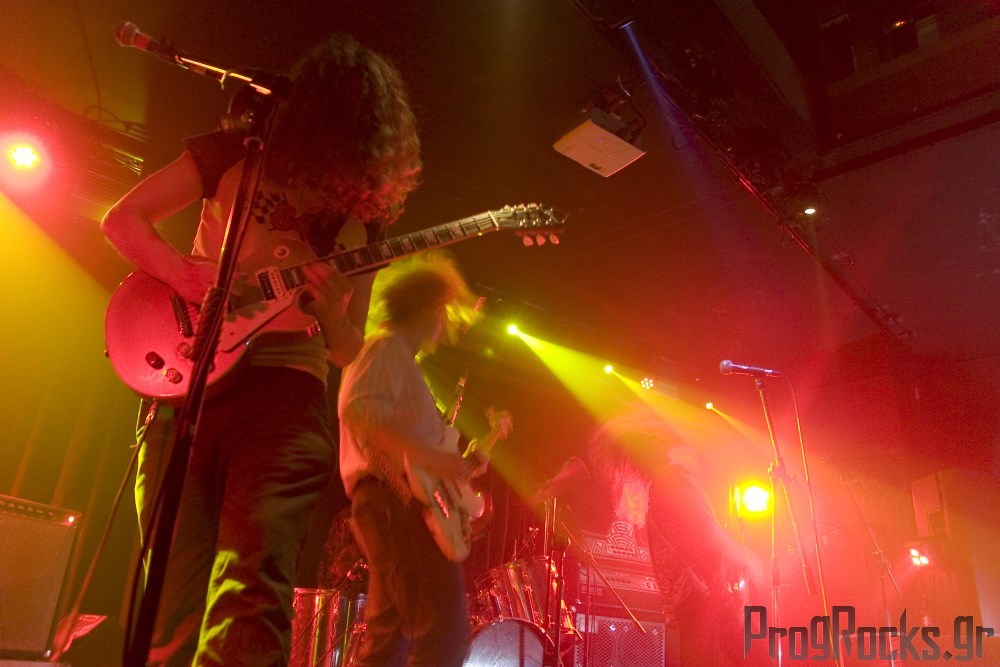 All in all, a great live at an affordable price, that gave us the opportunity to see two underground bands during their blossoming, both of them with great dynamics. The people who participated were not many, something that was expected for two not very well known bands, but I'm sure the word of mouth will definitely work in their case, and their music will become better known as they both have quality and perform great live. I hope to enjoy them both live soon.
Photos: George Alimisis