[Svart Records, 2018]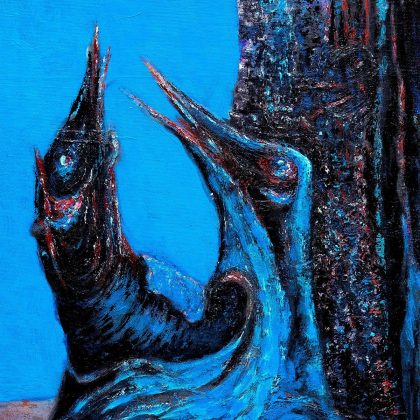 Intro: Thomas Sarakintsis
22 / 12 / 2018
The self-titled debut album of 2014 and Myrskyvaroitus, which was released three years ago, have both been a great occasion to meet the Finnish band Sammal. For those who don't know them, Sammal are a quintet, they have a contract with the thriving Svart Records and engage in a Finnish-British style progressive rock, approaching the 1970s scene very successfully. After a series of extensive live appearances that followed the release of Myrskyvaroitus and Live at Roadburn, a live record that was released the same year as their second album, they are back with a new album under the title Suuliekki.
---
The inspiration continues
The lineup of Sammal has not undergone the slightest change. The quintet is once again composed by Jan Kiviniemi on vocals, Jura Salmi on guitars, Lasse Ilano on bass, Juhani Laine on keys and Tuomas Karivaara on drums. The "silent" extra member is Matias Ryki Kilpiö, who contributes with his trombone in two songs.
Everything that happened in the previous albums regarding the lyrical part is also true for Suuliekki. The lyrics are sung in Finnish and it is certain that this may be difficult for many non-Finnish listeners. In its vinyl version, however, the album contains an inset with the titles and lyrics translated in English, which obviously helps to understand them. So, Suuliekki means "Orator's flame," a title in contrast both with the blue color on the cover as well as with the projected abstract depiction.
In my attempt to outline the style of Sammal in this album, I would say it's a balanced blend of symphonic prog, heavy prog, art rock and heavy rock with Finnish folk elements and a subtle -not as obvious as in the previous albums- psychedelic background. At the same time, the groovy side of the rock expands through their compositions, while some late '70s pomp elements are also evident.
Intro starts off the album ideally with a symphonic prog expression, which could well be used as an outro of the album: Juhani Laine's keyboards introduce us harmoniously to the content with its rhythmic and nostalgic tempo. What follows is a series of compositions that are filled with superb melodies. The title track is a catchy song with dancing mood, with Laine's keys and Jura Salmi's guitar sounding irresistibly attractive. If anything, a very promising start. In Lukitut päivät, kiitävät yöt (Confined Days, galloping nights) other influences emerge, where Salmi's riffs flirt with 00's Swedish doom / heavy rock. Unparalleled guitar work, a really great song. The short Ylistys ja kumarrus (Exaltations and deep bows) is a masterpiece with a marvelous memorable melody by the keys and the guitar, so that it's impossible not to recall it after the first time you hear it. Pinnalle kaltevalle (Leaning towards the surface) is filled with a Genesis and Camel scent, a masterful composition.
Vitutuksen valtameri (Ocean of frustrations) gives an opportunity to make a reference to Jan Kiviniemi's vocals: clearly the color of his voice is not irrelevant to the music, but in some songs his piercing voice sounds a bit annoying. I believe that in Vitutuksen valtameri he gives his best performance, a song where the band shows its pop side. In Maailman surullisin suomalainen (The world's saddest finn) the Finns balance between irony and drama. Music supports lyrics: a canvas that harmoniously blends art / prog with the northern European melancholy. The longest piece of the album is one of the best. Herr pelko (Fear your authorities) sounds as if Styx recorded at their creative peak in V.R. studio in Turku (where the recording of Suuliekki took place) with a Finnish singer. The album ends with the gloomy symphonic prog of Samettimetsä (Velvet forest), a good but predictable composition.
To summarize, compared to the previous albums, Sammal differentiate, but once again produce substantial prog rock with personality and character. Their noticeable characteristic is melody and catchy but perfect performance. The verse by Brecht "I saw the Old approaching, but it came as the New" readily reflects their artistic image.
8 / 10
Thomas Sarakitsis