[Inside Out Music, 2021]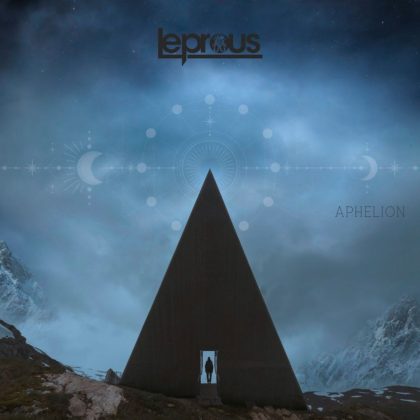 Intro: Lefteris Statharas

Leprous have ended up being one of the most consistent bands of the last decade with albums every two years or so, and they always manage to create a sense of anticipation for the fans. This sense of anticipation is a testament to their talent but also to the excitement they manage to create after every release, since they always add a little something new to their sound. Usually that something new was a little step away from their early heavy sound but their sense of melody and the extremely talented line-up of musicians always left a positive aftertaste to their records. Aphelion comes after the great Pitfalls of 2019 that was an extremely esoteric and introspective record. It's safe to say that since Pitfalls the band had a lot of time in their hands to be even more introverted. Is there something in Aphelion to surprise us?
---
Should a winning recipe change?
Einar Solberg described the recording of Aphelion as much more chaotic than any of the previous albums. They wrote each song separately and they recorded them in three different studios. It is to no surprise that this album feels slightly more disconnected than its predecessors. At the same time the structure feels very familiar to Pitfalls. That could be a conscious decision to follow a recipe of an album that was widely popular, however it gives a sense of familiarity with repeat listens of the album.
When it comes to the sound of the album, Leprous have further stripped away the metal elements allowing them to peak out only now and again. The keyboards and strings are the main movers of the songs, with Raphael Weinroth-Browne and Chris Baum making their presence felt with the cello and violin respectively. And while both of them had appeared in the previous records, they are virtually everywhere in this record making their presence felt in every song. However, when the guitars make their presence the difference is striking which makes their sound more impactful.
The opener Running Low is a safe way to start the album, very reminiscent of Pitfalls with nice melodic hooks. The Shadow Side later in the album is very similar in structure and it emphasizes the more melodic pop aesthetic the band has adopted in the later years
Out of Here focuses on the great vocals of Solberg that are once again top notch. The melodic lines are very reminiscent of the previous records which is to say not bad, it gives the sense of repeatability in their records. This might be the biggest critique of the band, the sense of self-referentiality they show in this album.
This sense of self-referentiality becomes more prominent in tracks like The Silent Revelation and Nighttime Disguise that maybe 10-15 years down the road we won't be sure if they were part of Malina, Pitfalls or Aphelion. The first has a nice djenty feeling and a beautiful vocal melody and Nighttime Disguise feels like it serves the same purpose as The Sky is Red did in the previous album but not as exciting. It was recorded in an online session with the fans voting for the direction the song can go. Unsurprisingly it steers towards the heavier side of the album.
In Silhouette and Have You Ever? Baard Kolstad makes his presence felt with great drumming, and the more electronic experimentation the band is doing is more prominent. Very nice rhythmic changes and nice interplay with the voice of Soldberg and the electronic elements.
Aphelion is a very pleasant album to listen to. With multiple listens you can find different elements in the songs that confirm that Leprous is one of the most exciting bands in the prog rock area. Is it a bit disappointing that we didn't hear something as unique and surprising as the previous records? Sure, but a good Leprous album is still exciting and better than many of the new releases out there.
8 / 10
Lefteris Statharas
2nd opinion
With their previous, excellent alum Pitfalls, the Norwegian stars of today's sound made a serious statement. A statement that doubted every ambition that other people had for Leprous' sound direction and change. And this happened decisively with new ideas for instrumentation, that clearly talk with the more "light" side of their music. They call it pop, but Leprous have it since their first releases. Their path, with its continuous explorations and impressive changes has completely stood out, and sometimes caused raved reviews. And here comes Aphelion, their new release, after an unbelievable series of great and equal records (something that is outstanding by itself), and it is for the first time that the band makes steps forward but squinting back at their two previous releases (Malina, Pitfalls), presenting a not so negative stagnation. Is this an element that makes the album less good? No, definitely not. The instrumentation in the 10 songs that embellish Aphelion shows their great evolution with their multilayered plays and timbres, but also the participation of strings and wind instruments (other than their permanent cellist in the last few years). And the variety, from ballads, to old prog, to cinematic passages, to more minimalist Pitfalls-like moments that are present. Maybe, the psychoanalytical attitude  and deepening of Pitfalls from this compact logic of creating something that is more than just a collection of tracks that showcase their talent in different facets. But again, Aphelion is an album that presents Leprous close knit and able to play a stadium with them laying down the rules. Have  You Ever?, The Silent Revelation, Nighttime Disguise are some of the tracks that always excel with ease after every listen.
7.5 / 10
Panos Papazoglou