[AMS Records, 2018]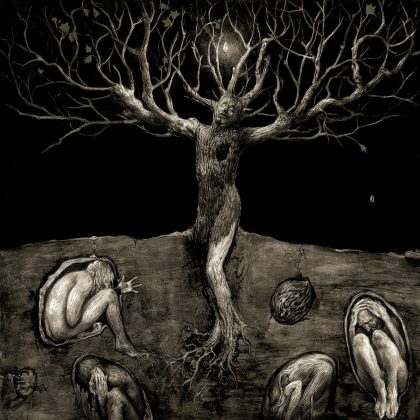 Intro: Paris Gravouniotis
18 / 12 / 2018
A deep silence prevailed over the past four years at the camp of the great Swedish prog rockers Änglagård, with their latest release being the live record Prog På Svenska – Live In Japan. This year, a project called All Traps on Earth appeared out of nowhere, led by bass player and Änglagård leader Johan Brand, along with his daughter Miranda Brand, Thomas Johnson and Erik Hammarström.
---
The dark side of Änglagård
A Drop of Light burst like thunder in the midst of the rather mediocre 2018 regarding prog releases, reminding all friends of the progressive sound what the real DNA of our favourite rock subgenre is. Perfect technique, melodies, rhythmic changes, gripping atmosphere and experimental mood blend and uniquely combine to achieve an excellent result that sounds dreamlike and nightmarish at the same time.
Having the symphonic prog heritage of the sound of Änglagård as its main ingredient, here the company of Johan Brand makes the shadowy style of the Swedish legends even more obscure, adding avant-garde aesthetics to this endeavor. Through four lengthy compositions (plus a two-minute interlude), All Traps on Earth stretch all the spectrum of their influences, managing to stun the listener, making each next hearing an exciting experience. The King Crimson-ish A Drop of Light is dominated by the most adventurous and aggressive side of the band, and it would not be an exaggeration to say that it nods to Univers Zero's style. Magmatic Warning, although testifying by its title to which band it delivers an atypical tribute, is not limited to the style of Magma, but manages to adorn another outstanding composition with this influence. In Omen and Bortglömda Gårdar they combine the intense melodicity with a darker mood, in two more top moments which both stand at the highest level.
I would also like to focus on how successfully they have incorporated the trumpet and saxophone into the typical Änglagård sound, giving an intense jazz feel and a cinematic touch. Even though A Drop of Light is mostly an instrumental album, Miranda Brand's vocalese fully blend with the style of All Traps on Earth. Special mention should also be made to the fantastic album cover that most successfully reflects the musical content.
I do not know if this album will have a follow-up, or if this was just a parenthesis in the careers of the participants. However, I personally would not mind at all if All Traps on Earth would be the dark side of Änglagård and Johan Brand's experimental field of action, much less if they continue to record such great albums as this year's A Drop of Light. Those who prefer the uncompromising and groundbreaking side of prog rock, they most likely have the best album of the year in front of them.
9 / 10
Paris Gravouniotis