The debut album of Time Collapse is another proof that the modern Greek prog scene is in bloom. Night to Day (our reviews here) is an excellent crossover prog album that rightfully deserves international recognition. Our interview with Christos Cahill Politis (vocals, guitars), Giannis Kiousis (bass), Nikos Lekanis (guitars), Stavros Marinos (keyboards), and Babis Amoiridis (drums) proved to be extremely interesting and revealing as was their music.
Questions: Lefteris Statharas, Dimitris Kaltsas
Translation: Alexandros Mantas
---
First things first, congratulations on your debut album guys, it is a thrill for us to listen to such top-notch prog rock from Greek bands. How long did it take you to compose the album and was it an easy ride from the beginning of the process to its completion?
Nikos: To begin with, we would like to thank you for the interview and we are chuffed that our material becomes gradually visible to the audience and mainly to "appropriate" ears, so to speak.
Writing the album was a beautiful and creative journey out of which we became better musicians, we got tighter and we met some interesting characters. Some of them played a prominent role to the creating process, whereas with some others we bumped heads, ha, ha! It took us roughly two years to make this album. It began as a stab to record some songs and ideas in fragmentary form, not even considering if we are ready to record an entire album. We could say that this was the pre-production stage of the album Night to Day since some of these parts were finally included in the album.
The second stage was the real game-changer. We chucked out the stuff that sounded now uninteresting to us and after that we began putting down new songs like Time Collapse (after which the band was named). With the addition of Babis on the drums, an extreme makeover on the existing tracks took place and we dedicated ourselves to come up with compositions that represent us better.
Babis: I would also like to thank you for your time to listen to our record and write such an erudite and sophisticated review. When we began making the album we zeroed in on perfecting the initial four compositions (Time Bound, Time Collapse, Reflecting Lies, Night to Day), especially the drums parts because before I joined the band, it was drummerless. With my coming (February of 2015), I had to make the patterns sound more "drum-like" since the guys had already put down a basis.
Then, for no good reason, as a band with cemented line-up we plunged into the trilogy (Messiah Complex)! Everything just came too easily since there was good chemistry between us, especially when it came to co-operation! In between the process of composing we threw in a couple of live shows just to keep us in shape. As time went by and we were heading to the completion of the material, we focused on the recording sessions and the production. Here, we were pretty lucky to have Dinos (Sound Abuse Productions) on board who turned into reality (with tremendous reserves of patience and appetite) our vision, pulling off to achieve a superb production!
Let's go back a few years. You were founded in 2013 in Athens. Did you perform with other bands before Time Collapse? How come your paths crossed and to what extent is your music now different compared to when you just started?
Nikos: Time Collapse were founded by me (guitar), Chris (vocals, guitar) and Stavros (keyboards). In essence we were together as members of a band that went under the name Awkward Situations whose style was pretty much different and bore no resemblance whatsoever with what we are doing now. We always had the burning ambition to start fresh and create something that was more in step with the times and ambient that would satisfy us a lot more. We looked for a drummer and then joined Babis, the fifth member, who was the right guy at the right moment.
Just for the record, Babis was the founding member of the progressive death metal band Conspiranoia. Giannis (bass) had played in various groups out of which the most important was Ivory Tower who were later renamed Illusory. Chris participated in a number of projects playing mainly jazz groove and funk rock, Queens of Geometry to name one, who later changed their monicker to Soup. Stavros, as a card-carrying Dream Theater fan was playing in a cover band of similar groups. It was me (Nikos) who founded Awkward Situations while groping for the musical direction that suited me best when I was very young and very green as a musician, ha, ha!
Stavros: Our music has evolved in spades. This is because we evolved as musicians, but also because we came to know each other better. It is paramount for a musician who is non-soloist to be able to adapt to and give space and respect the sound of the others. This came by default in Time Collapse because egos are non-existent, we talk to each other about everything having always in mind if it is good for the final result. Personally, I count myself very lucky to bump into such guys and everyone is free to express himself with no clashes.
Which is the procedure of composing songs? One listening to the meticulous themes, assumes that the songs are based on personal ideas that are developed collectively by the band, is that so?
Christos:  It rules. Most of the times someone comes up with the bare bones of an idea, written on any instrument, and we gradually flesh it out. We all play our part to this and everyone's opinion is equally valuated when it comes to matters of ideas, structure and arrangements. It is a rarity that someone produces a completed piece of work. We avoid this because on the one hand the final result will be different and on the other hand composing is a procedure where everyone adds his personal flavor to the song. This is all-important in order to render it passionately in a gig, but also for all of us to look on it as our own child. Rarely a song will grow legs while jamming because we feel restricted and also this approach is not appropriate for our style.
Our conversations are very important, too. The communication between the band members is a crucial factor and whereas I find it very difficult to get my ideas across, this is not the case in this band. As a result, we take into account and understand all of the ideas. Even if there are initially disagreements, in the end we all come round to a point of view.
The music you play is as interesting as it gets and it is still alive all over the world about the last twenty years. What inspired you to play crossover prog? Was it the prog or the alternative element?
Christos: We never spared a thought what kind of music we would like to play, it just came out as a natural result of the music that interests and inspires us, both to listen to and play. Each one of us came in this band with a different background of influences, but we struck a happy medium. We all relish the complex rhythms, the "odd changes" and the unconventional song structures while at the same time we appreciate a more "poppy" harmony. We are prog, but not prog snobs.
From the contemporary scenes of the U.S.A, Australia and Scandinavia, which do you think is/are the more interesting?
Giannis: As a whole, I think the Scandinavian one has gained ground in modern prog music with bands like Leprous, Opeth, Katatonia, Pain of Salvation, Beardfish, Flower Kings, Meshuggah and others. If anything, they are bands that influence heavily young people who engage themselves in prog and, in general, if you find yourself among prog-heads there is not a chance that at least half of the aforementioned names won't surface.
In my view, perhaps the most grabbing element of your music, aside the marvelous atmosphere and aesthetic as a whole, is your sound that is remarkably mature, but also the flawlessly well-balanced secondary elements, namely post-rock, the symphonic parts, the occasional avant-garde and, at the border, folk parts. Have you ever given it some thought to develop them in the future?
Nikos: Of course we have! Every one of us represents something different since our influences and experiences differ. For instance, I may be more inspired by post-rock and electronic elements. These things will surface inevitably without pushing to this direction.
Our next albums are a white canvas and we are challenged to cram a lot of elements that mix up harmonically. The only certainty is that we want to take our chances while maintaining the balance between melody, atmosphere and metal riffs. With this groundwork, a good post-production can turn wonders into signs, ha, ha!
I think you are obviously influenced by Tool, Porcupine Tree and Karnivool which is a pleasant, to say the least, fact when listening to Night to Day. Name some other influences of yours.
Giannis: The bands you've just said are inevitably a reference point for us and maybe that's why their influence is obvious. Every one of us draws inspiration from different sources. It's kind of hard to point out even the basic ones because everyone has a different background. You can get an idea about them by checking out the question below. As a whole, our preferences range from 70s to contemporary progressive, pop, post-rock, among others. If someone was aware of our influences, they would surely be able to pick them out in the melodies of each member. It is a blessing that all of them find their place in Time Collapse.
Without thinking too much about it, name five favourite albums of yours regardless when it was released or the style and what are you listening to now?
Nikos:
Opeth – Damnation 
Tool – Lateralus 
Muse – Origin of Symmetry 
Karnivool – Sound Awake
Katatonia – The Great Cold Distance 
Stavros:
Queen – A Day At The Races 
Queen – Queen II
Dream Theater – Images and Words 
Dream Theater – Scenes From a Memory
Ayreon – The Human Equation 
Giannis:
Eloy – Ocean 
Pink Floyd – Dark Side of the Moon
Yes – Close to the Edge
Hawkwind – Hall of the Mountain Grill 
Black Sabbath – Heaven and Hell 
Christos:
Tool – 10,000 Days
Radiohead – In Rainbows 
Rival Consoles – Odyssey 
Ratatat – Ratatat 
Snarky Puppy – We Like It Here 
Babis:
Dream Theater – Images and Words 
Tool – Lateralus 
Porcupine Treee – Deadwing 
Meshugga – Chatch 33 
Pain of Salvation – Be 
As a new band, how difficult you think it is to write a debut album that illustrates your influences as well as your personal style?
Stavros: As I am pondering the question, I see three main factors that contribute to the making of a mature album. The first and most important is the human factor. Obviously the music is principal, but the co-existence and collaboration between the members play a key role. This is not too easy. We all know from personal experience that clash-free communication when being a part of any kind of team is hard to pull off, let alone when it comes to a work which is technically demanding and simultaneously everyone must feel comfortable with the other guys because music is, above else, the expression of feelings.
Secondly, if there is a good chemistry within the group, the next goal is that everyone should embrace the creativity of the other and enrich it. Especially in a band where all the members contribute creatively, it takes patience so that all the pieces will come together and form a mature tune. It is not that easy to find people who like what you do and vice versa.
If the outcome appeals to all members, then what is left is the technical stuff. That is rehearsing, recording, the production, numerous meetings with all the people involved (sound engineers, photographers, etc.) and loads of donkey work! These things demand meticulousness and focus on the goal. Not all people are cut out for it.
If all of the above are checked, a quality record can be achieved. Regardless if it will appeal to the audience, it is worthwhile because it was created with a lot of inspiration and work, no two ways about that.
Since the listener is inundated with new releases, how difficult you think it is for your music to become visible? How difficult it is to promote the album?
Stavros: At first glance, in the time of chaotic information where – for better or for worse – everyone can take the floor on social media, it seems to be a tall order. There is so much "hype" on every level that it is almost impossible for a release to stand out. Nevertheless, even if I give the impression of a fatalist, I do believe that all great music eventually gets its fair recognition. If there is quality, it is only a matter of time to come to the fore. Because when a lot of energy, passion and work is involved, surely enough the appropriate ears will come across it and value it.
To achieve this, sitting at home and praying is definitely a non-starter, instead you have to utilize the options available (especially when the budget is strict). Our personal experience shows that if someone longs to spot bands to get their thrills, eventually they will find them. Most important is if the listener will finally make use of the information that reached them.
Therefore, the most crucial point when promoting the album is to reach the appropriate listeners who, in their turn, will introduce it to other people. It resembles the way that the torrents function, I mean the two seeders will become 15 and then the 15 seeders will become 150 and so on. Granted, social media as whole are a great tool for the new bands to spread the word about their material, the point is what the people will make of it.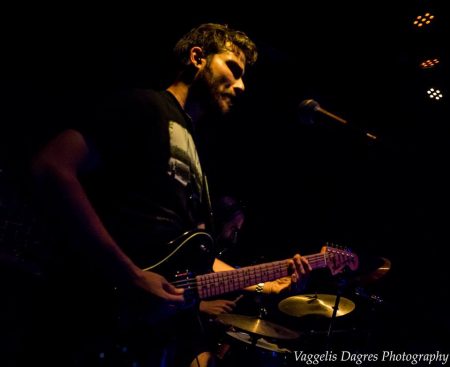 Any gigs scheduled? I think your music could really take off live with a decent sound.
Giannis: After the summer break, there is a lot of planning about what to do the forthcoming winter, but nothing is concrete yet. Our priority is to present our record to the audience on an open-air venue and we are in a stage now where we organize this.
Certainly we give a lot of weight to gigging and reproducing the most accurate we can what you hear on the CD, but with even more passion and energy.  Surely it's not duck soup since there are issues like the lighting, the gear, the set-up, the available time for soundcheck and others that are out of our hands. Nevertheless, it's a huge challenge for us.
Is there any material for your next album? If so, how different it is compared to Night to Day?
Christos: There are a lot of ideas which, for the time being, have no structure and there is still no discussion about them because we are focused on the promotion of the album. Composing and recording new material is something we are champing at the bit to do and we want to get them right. Certainly we intend to give a lot of weight to the atmosphere, the melodies and assorted technical parts that grab the listener.
Do you keep tabs on the Greek rock scene and especially the progressive one? Which bands make the cut for you? Are there any bands in Greece similar to Time Collapse?
Nikos: Some of us do and we try to keep up with some of them, even going to their gigs. Some that stand out for us are One Leg Mary, Mother of Millions, Universe217, Gravitysays_i, Need, we.own.the.sky, Poem, Tardive Dyskinesia and others.
With regard to the last part of the question, every band has something different to offer, I don't think we bear a strong sonic resemblance to any other, but this is up to you and the audience to decide. There might be somewhere a similar band to Time Collapse, we just may have not discovered it yet. We need to pick your brains gentlemen, ha, ha!
Where do you see the band in five years?
Stavros: The truth is that questions that require long-term thought evoke existential issues to me. This is something that I often ask myself, but also my bandmates. What do we really want? Why an artist in the first place wants to share their creativity? Is it selfishness or simply a deeper human need to share your feelings?
The answer to the question is that in five years we hope to be inspired, still driven and get on well with each other to keep on writing music. It is very important to keep our basis as a band. Aside that, we would love to see a wider audience, within and outside Greece, embracing our music.
Thanks for the chat guys. We wish you will reap the benefits of your work. We hope to see you again soon!
It was our pleasure!