by Dimitris Anastasisdis, Paris Gravouniotis, Dimitris Kaltsas, Goran Petrić, Thomas Sarakintsis, Lefteris Statharas, Giannis Zavradinos
On February 9, 2021, the great Chick Corea died at the age of 79 from a rare form of cancer that was only recently diagnosed. His great contribution to the evolution of jazz sound  – and not only – in the second half of the 20th century is simply unparalleled.
Armando Anthony Corea, American of southern Italian descent, who acquired the nickname "Chick" from an aunt who pinched his cheeks and called him "cheeky", started playing the piano when he was four years old, encouraged by his father who was a jazz trumpeter. His great love for music prompted him to drop out of Columbia University (he had stated that when he saw Miles Davis live he lost all interest in anything other than music), and became better known through his collaboration with Stan Getz as well as his first solo albums. As a result, he became a member of the band of his idol,  Davis, and played on historical albums such as Filles de Kilimanjaro (1968), In a Silent Way (1969), Bitches Brew (1970) and On the Corner (1972). Undoubtedly, Return to Forever was the culmination of his great career which also includes many collaborations and participations in great albums, such as The Thing to Do (Blue Mitchell – 1964), Sweet Rain (Stan Getz – 1967), Turkish Women at the Bath (Pete La Roca – 1967), Super Nova (Wayne Shorter – 1969), Spaces (Larry Coryell – 1970), Outback (Joe Farrell – 1971), Free (Airto Moreira – 1972), Journey to Love (Stanley Clarke – 1975), Land of the Midnight Sun and Splendido Hotel (Al Di Meola – 1976 and 1980 respectively), Gershwin's World (Herbie Hancock – 2000), and Universal Syncopations (Miroslav Vitous – 2003).
Corea won 23 Grammy Awards and is rightfully considered one of the fathers of the jazz / jazz-rock (and latin / funk) fusion sound and one of the best and most important jazz pianists / keyboardists in general. It is no coincidence that many of his compositions are considered jazz standards, many of them since their release. Making an overall assessment, there is no doubt that if it were not for Chick Corea, music would not only be poorer but also quite different.
We selected 11 of Corea's most important albums with Return to Forever and as a solo artist, a journey through time with some of the greatest legacies of the genius artist, who will be remembered as a lovable, humble man with an inextinguishable smile.
---
Chick Corea – Now He Sings, Now He Sobs (1968)      
As a bandleader, 27-year-old Chick Corea, after his wonderful debut, Tones for Joan's Bones, and assisted by 21-year-old Miroslav Vitouš on electric / acoustic bass and Roy Haynes on drums, visited New York's A&R studios in the spring of 1968 to record his second solo album, Now He Sings, Now He Sobs. The virtuoso and already acclaimed musician, since he had already been a member of many bands (he participated in the excellent Sweet Rain of saxophonist Stan Getz, while in the mid-60s he participated in Blue Mitchell's incredible hard-bop album The Thing to Do) having musical skills, appetite and passion as valuable weapons in his quiver, created a groundbreaking post-bop masterpiece, which established Corea as a solo artist. The album combines some of the materials with which this genre is built, such as free jazz and avant-garde. The five compositions are distinguished for the extraordinarily frantic piano rhythms (Steps, What Was), the skillful swing jazz manifestations (Matrix), the brilliant and highly skilled quests (Now He Sings, Now He Sobs), the free jazz piano improvisations (Now He Beats The Drum, Now He Stops) and the abstract avant conceptualization (The Law of Falling and Catching Up).
Chick Corea – Return to Forever (1972)
Four years after his debut album, Corea unveiled the album that changed the general perception of jazz music. His ninth solo album was the unofficial debut of Return to Forever, the first album on which Corea plays electric keyboards, the album on which he introduced his later legendary Fender Rhodes. As a child of Miles Davis's legacy, on this album he presented his own version of jazz fusion for the first time, with admirable compositional precision, without the experimentations of his idol, in other words he contributed significantly to the formation of jazz fusion sound as we know it today. With Chick's unique style, Flora Purim's ethereal vocalese, Airto Moreira's latin percussions, the genius wind layers by the late great Joe Farrell (who died in 1986) and of course the magic fingers of 21-year-old Stanley Clarke, Return to Forever is more than "just" a masterpiece. To this day, this album remains one of the most important samples of electric jazz, inevitably influential inside and outside the jazz niche, and magically Michael Manoogian's amazing photo on the album cover as well as the undefined title acquire the ultimate sound depiction through these notes.
Gary Burton / Chick Corea – Crystal Silence (1972)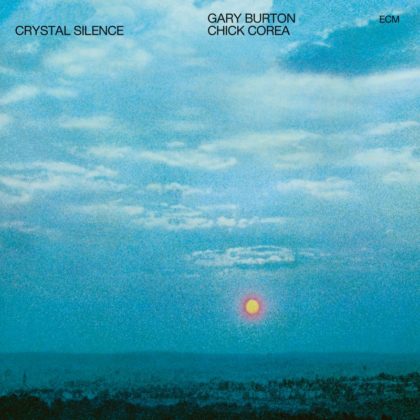 The next step after the colossal Return to Forever would logically seem difficult for anyone, but not for Corea. Crystal Silence was recorded in November 1972, again produced by ECM founder Manfred Eicher, and the music direction had nothing to do with jazz fusion. Corea's first collaboration with the great vibraphonist Gary Burton – famous for his use of four baguettes – which was the epitome of acoustic jazz in the early 70s is a typical and classic example of a chamber jazz / third stream duet, a creative form for which Burton became known through his career. The chemistry between the two is impressive and the compositions of Steve Swallow and Michael Gibbs fit very well into the new style for that era. However, the album highlights are probably the six tracks written by Corea, and especially the title track, one of his top compositions in general and an Instant classic for every jazz pianist and the genre as a whole. The two musicians collaborated again in Duet again for ECM (1979) and The New Crystal Silence in 2008, but both albums cannot be compared with Crystal Silence.
Chick Corea and Return to Forever – Light as a Feather (1973)
The recordings for the legendary Light as a Feather took place on 8 and 15 October 1972 in London with exactly the same line up as in Return to Forever. Musically, it is a direct continuation of the legendary debut of Corea's band, with Flora Purim's vocals having a bigger role and Stanley Clarke playing for the only time in his career exclusively double bass on an entire album (who btw wrote the title track fusion epic). Joe Farrell's performance is inconceivable, Airto Moreira on percussion is shocking. Chick's style on Fender Rhodes is ideally defined here, as is jazz fusion as a genre, with a more jazz base and a latin twist compared to what followed. According to many, the epic track Spain, which closes the album, is Corea's best composition, a real jazz standard and an eternal concert encore. The album is included in the list of the best albums of all time by Absolute Sound and Stereophile magazines and in the "1,000 Albums to Hear Before You Die" list of famous jazz music critic Tom Moon. Even if one can ignore the historical significance of this masterpiece, listening to makes it impossible not to bow to its musical greatness.
Return to Forever featuring Chick Corea – Hymn of the Seventh Galaxy (1973)
Corea decided to switch to jazz-rock / fusion following the example of John McLaughlin, Joe Zawinul, Herbie Hancock and other musical companions. Thus, he kept only Stanley Clarke from the original band, hired Bill Connors on guitar and drummer Lenny White (with whom he had collaborated in the sessions of Bitches Brew) on an instrumental quartet. The Hymn of the Seventh Galaxy confirmed the expectations in the best way in eight wonderful compositions where rock meets the Latin temperament. The rhythm section of Clarke / White is based on automated overlap that structurally fits with Corea's lavish playing, while Connors' lyricism and simplicity reinforce the latin elements. Clarke penned the sensual After the Cosmic Rain, and there are also some groovy moments like Space Circus pt. 2. The rest of the compositions flirt with adventurous changes and features related to progressive rock. This was an important starting point in Corea's effort to compete with electric jazz giants such as the Mahavishnu Orchestra and Weather Report. The departure of Connors in 1974 and his replacement by Al Di Meola would bring new transformations in terms of technique and sound quality. But this is another story…
Return to Forever featuring Chick Corea – Where Have I Known You Before (1974)
Where Have I Known You Before marked an important decision in the course not only of Return to Forever but also of jazz fusion as a whole. The great Chick Corea decided to trust the guitar position to a hitherto unknown 20-year-old named Al Di Meola and the rest is just history. In fact, in this LP we hear for the first time the impressive lineup of Chick Corea, Al Di Meola, Stanley Clarke and Lenny White. Musically, we are dealing with one of the most perfect samples of jazz-rock / fusion of the mid 70s with impressive playing and unparalleled technique, while the complex nature of the compositions was one of the main reasons why fusion came so close to progressive rock. The storming Vulcan Worlds that opens the album is funky, groovy and jammy, while compositions such as The Shadow Of Lo and the piano instrumentals Where Have I Loved You Before, Where Had I Danced With You Before and Where Have I Known You Before (where the star of Corea shines) highlight the most melodic face of Return to Forever. The cataclysmic 14-minute Song to the Pharoah Kings that essentially combines all of the above seals the finale of a flawless album.
Return to Forever featuring Chick Corea – No Mystery (1975)
No Mystery was recorded just four months after the release of Where Have I Known You Before and as strange or unlikely as it may seem, it has nothing to envy from the already shocking backlist of Return to Forever. The difference compared to the previous albums is the apparently more intense funk character while the jazz-rock element was established in their sound shortly before it dominated in Romantic Warrior. The first side of the album includes compositions by all members of the band. Stanley Clarke's classic Dayride, Corea / Clarke's super groovy Jungle Waterfall, Al Di Meola's unsurpassed Flight of the Newborn and Lenny White's disco / jazz Sofistifunk make up an enviably diverse A-side. On the contrary, the second side belongs completely to the band leader, and here the atmosphere is more intense, with the title track and the epic Celebration Suite that closes the album being the best compositions. One could say that No Mystery was a transitional album, it was the band's record in the mid-70s, just before they made a brave leap that went down in history as a huge musical achievement. Btw, Return to Forever won a Grammy Award for No Mystery.
Return to Forever – Romantic Warrior (1976)
Every record, as well as every cultural event, depends on the concerns, expectations and fears of the society that gave birth to it. Is Romantic Warrior the best or most important achievement (because it is an achievement) of the mythical career of the giant Chick Corea? The last meeting of the astrophysical quartet (with Lenny White, Al Di Meola, Stanley Clarke) certainly expresses in an exuberant way the trends of its time as a musical snapshot. An insatiable thirst for innovation, for technical perfection, for the discovery of new sounds, for endless experimentation and the search for the fusion of different musical genres. A search in which the avant-garde indulged with great zest during this magical musical decade, similar to the one shown by the occultists of the Middle Ages for finding the philosophical stone. The album crosses musical boundaries with unimaginable ease and unparalleled quality, from jazz symmetries to latin twitches, and from funky swings to symphonic prog gallops, with the unparalleled ability of every titan musician set free, as everyone here has contributed with an exceptional composition.
The most successful album of Return to Forever received the recognition and respect it deserved, it was loved by prog rock fans because it (also) spoke their own language. An unstoppable musical orgy, a musical quest that eradicates borders and genres, an endless soundtrack. A masterpiece.
Chick Corea – My Spanish Heart (1976)
The ever busy and productive Chick Corea along with his Return to Forever release in 1976, the legendary Romantic Warrior, and The Leprechaun (that won him a Grammy), in October of the year released My Spanish Heart. An album that commemorates his love for the sound and rhythms that came out from neighborhoods of Spanish Harlem and the Upper West Side of New York City. The main driver of the album is obviously the piano and synthesizers of the maestro. He takes the stage many times but the interesting and exciting aspect of the album is the interaction he has with drummer Steve Gadd and bassist Stanley Clarke. The rhythm section that infuses the album with the Latin elements he wanted to explore. To top that, his experimental spirit makes full use of the synthesizer sounds that are very prevalent in El Bozo Suite. The classic Armando's Rhumba features Jean-Luc Ponty on violin further merging the jazz and Spanish sounds. My Spanish Heart merges the Latin temperament and the experimental spirit Chick Corea had, and that's why it's considered one a jazz standard.
Chick Corea – Three Quartets (1981)
After his glorious jazz fusion adventures with Return to Forever and his solo albums in the second half of the 70s, Corea surprised everyone in 1981 with Three Quartets, one of his most ambitious and unique records. His band here is obviously a quartet, with the late great Michael Brecker on saxophone (he died at the age of 57 in 2007), Eddie Gómez on double bass and Corea's constant collaborator at the time, drum legend Steve Gadd. The title came from Corea's three compositions, Quartet No. 1 and No. 2 of the first side and the two parts of Quartet No. 3 dedicated to Duke Ellington and John Coltrane respectively. Artistically, Corea's attempt was to create an album with quartets like the string quartets of the Romantic and Impressionist periods, but with jazz instrumentation. The result was an original and absolutely successful post-bop album with jazz fusion elements, where Chick shines once again, while Brecker is the counterweight of aggression, offering some truly magical moments with his solos. Three Quartets is an artistic proposal with a character that no one could think of and record like Corea.
Chick Corea – The Chick Corea Elektric Band (1986)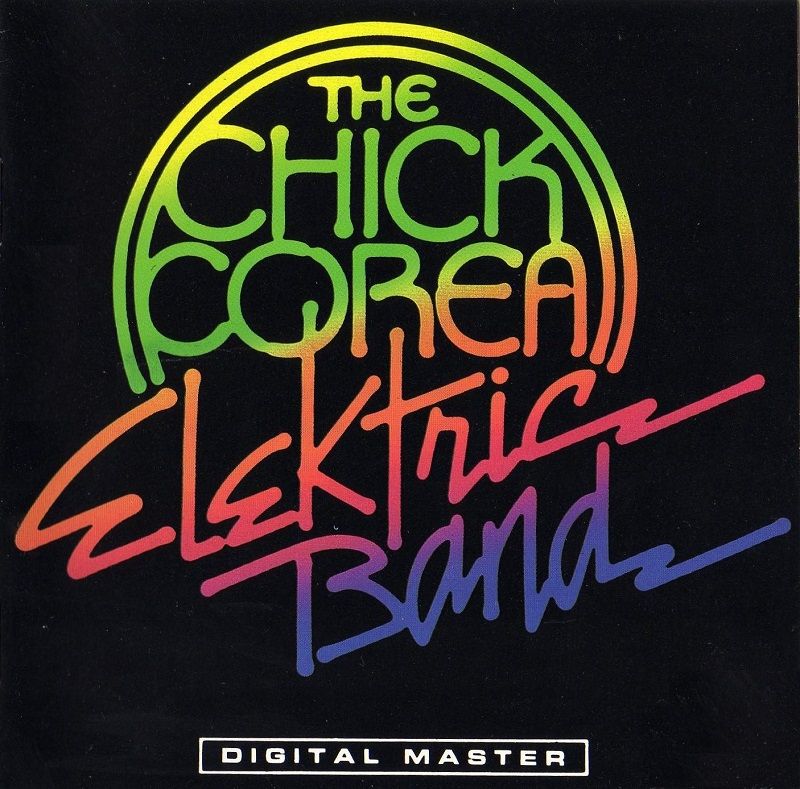 In 1985, Chick Corea signed a deal with GRP Records an American record company that invests in more contemporary and commercial jazz music. His intention was to record a more contemporary and more acceptable fusion album, tracing new elements to jazz-rock and with much more emphasis on keyboards and electronic equipment that has been available in this decade. The album is significant also for the big stage debuts of Weckl and Patitucci, one of the greatest rhythm section in jazz. There's a great mix of songs on the record, and layered arrangements, while Corea's keyboard work is recognizable, but modernized in the key of time. The compositions here are at times extremely complex or quite jazzy. The order of songs is perfect as every song compliments the next one and the whole album flows wonderfully. Chick proved that he can compose far more smoothly and imaginatively than any other fusion musician at the time. For those who have never listened to him before, this is a great place to start. The album went well in mainstream charts and that fact prompted Corea to continue exploring that contemporary fusion and continue working with the same musicians.