[Seventh Records, 2019]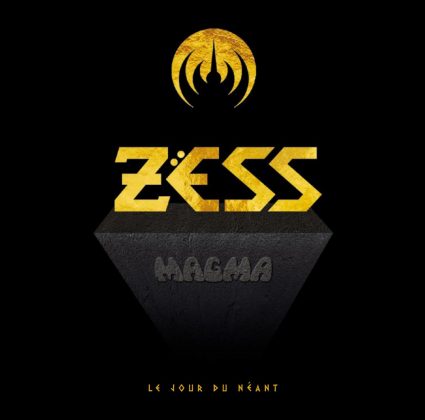 Intro: Vangelis Christodoulou
Translation: V. Christodoulou, D. Kaltsas
02 / 09 / 2019
It was 1969 when Univeria Zekt Magma Composedra Arguezdra (or simply Magma shortly thereafter) assumed their primary form in Paris and commenced reporting on the struggles of the Kobaïans, who seeked a new planetary home in Kobaïa after the demise of a scorched earth. Amidst controversies, an invented language and mythology, as well as a unique musical style in Zeuhl that spawned a whole scene, Christian Vander has been the mastermind and sole constant member of this behemoth of a musical entity for the last 50 years. In 2019, they offer the latest document in their literature. Will it be the last? Hopefully not.
---
Spiritual and cathartic quality
Zëss marks a few firsts for the band. Strangely, given their proclivity to mold orchestral textures to their music, they hadn't so far collaborated with an actual orchestra, which is finally amended with the employment of the Prague Philharmonic. Since the composition appeared in 1979 as a live-only treat, I would assume that the logistics of involving a full-fledged orchestra at live shows would have been forbidding. Moreover, you can catch the various versions of it in the band's archival recordings and you might agree with me that it sounds mundane and overly repetitive at times. I find the orchestra to offer a new dimension and elegance. Second, Christian Vander cedes the drum kit to the astounding Morgan Ågren! Rumours (or was it wishful thinking?) had it around 2017 when Mats/Morgan opened for Magma in Stockholm, about a possible collaboration. To my amazement, this materialized now, two years later. Third, this is the only album to ever feature French on a Magma album, even if it's just for the first 2 tracks.
Hymne au Néant sets the ominous tone for the rest of the record, with its dominant chords evolving in a cyclical fashion alongside the long choral introduction and its Egyptian section. Following such an inauspicious setting, Vander lays his bleak prose in Les Forces De L'Univers – Les Eléments, almost as a cult leader foreshadowing the death of everything, narrating over a minor cadence and a repetitious groove. "Aujourd'hui est le jour, nous allons mourir. Et je te dis merci". The orchestra reveals a sense of majestic understructure and begins to slowly take over by the dawn of Dïwöóhr Spraser. The lyrics are now in Kobaïan and its germanic undertone, with Vander partly narrating, partly singing, then scatting and chanting feverishly. By Streüm Ündëts Ẁëhëm (that's the 4th out of total 7 intertwined tracks, if you lost counting) we begin reaching the composition's climax through odd time signatures, breaks and mild dissonance alternating with an ever-evolving orchestral arrangement over the same minor cadence. 
Admittedly, it will take quite some time to finally reach that climax, and one doesn't have but to appreciate the drone-like effect of this long-winding composition that continues with Zëss Mahntëhr Kantöhm, which retains the dynamics and reintroduces the choir, as well as a few harmonic variations. But buckle up, as the end is near: Zï Ïss Ẁöss Stëhëm kicks off in limitless joy, the choir is ecstatic, the cadence is ever-prevalent, although masqueraded into a vehicle for praise. Soon it all comes to an end in Dümgëhl Blaö and Vander's piano comping, with the strings accentuating the vocals and finally releasing hope after the pain, the darkness, the light and the ecstasy. At last it all resolves to an OM.
Compared to the classic works by Magma, Zëss is not as groundbreaking but I doubt that would be a rational expectation. It is rather repetitive and it does take time to appreciate, while it certainly shows the band in top form (although the newcomer Rudy Blas' guitar is practically inaudible). The orchestra reveals a missing element in Magma's music and I would really love to listen to a similar treatment on Theusz Hamtaahk, for example, which has not been properly recorded yet. I enjoyed Zëss' spiritual and cathartic quality and I imagine it holds a dear place in Christian Vander's heart, hence the decision to go with it.
8.5 / 10
Vangelis Christodoulou
2nd opinion
Zëss is not a new composition by Magma. It was first performed live in 1979 and was first recorded on the live album "Les Voix" Concert 1992 Douarnenez (1992) and shortly after in Bobino 1981 (1995). Its studio version came as a surprise to many, and even more so when they listened to the album. The drums were taken over by the great Morgan Ågren while Vander is solely dedicated to narration (we can hear French for the first time in Magma history) and singing. The big difference from any concert is the participation of the Prague Philharmonic Orchestra giving a completely different dimension to the music, combined with stentorian choir vocals, hypnotic bass lines, Jazz-rock explosions and Ågren's galloping prog drumming. The most symphonic album by Magma is at the same time the brightest. The familiar sense of the zeuhl upthrust comes with the awareness of a purifying euphoria. The overall achievement is also unprecedented: the countless theme alternations and the absolute lyrical performance enchant without causing anxiety, bringing smiles to an environment that totally lacks humor.
9 / 10
Dimitris Kaltsas