[Seventh Records, 2022]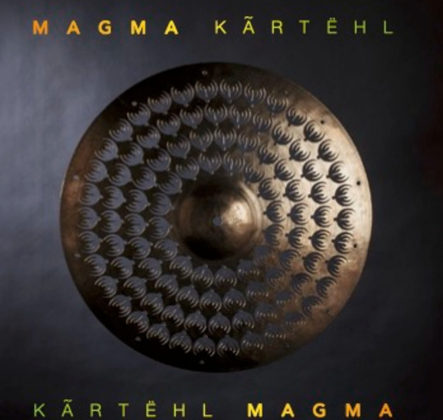 Intro: Dimitris Kaltsas

It is common knowledge that by the start of the 80s almost all prog bands that flourished in the 70s had a hard time and either disbanded or failed to adapt to the rapid changes and ended up adding a few mediocre records to their discography, at best. One great exception to this rule was Magma. Although their productivity declined significantly, their substantial comeback with 2004's masterpiece K.A is something impossible to forget, at least for avant-prog fans. After all, we are talking about a band with a debut in the 60s that managed to be influential 40 and 50 years later in the sound they essentially invented. Ëmëhntëhtt-Ré (2009), Félicité Thösz (2012), Šlaǧ Tanƶ (2015) and Zëss – Le Jour Du Néant (2019) are unrepeatable achievements of a band that remains relevant and creative even today.
---
A triumph of evolution
The mythical universe of Magma was actually a personal vision of Christian Vander in the late 60s. The main foundations was spirituality, dedication and discipline in setting, aesthetics, lyrical and musical concept, thus maintaining a timeless sense of mystery and grandeur despite line-up changes. A s result, it was impossible to categorize Magma, giving the band itself the right to be identify its music as Zeuhl (a genre that would only include bands influenced by Magma). The culmination of their innovation and inimitable personality was the creation of their own language, the band's absolute trade mark. If we had to give a characteristic of their music, it might be the acrobatics between modern classical, the meditative quality of John Coltrane's music (special mention to his legendary pianist, McCoy Tyner) as well as the spirituality of soul music. All this was enriched with imposing choral parts that refer to the works of Carl Orff. Their epic compositions mainly work with ups and downs in dynamics, lyricism, improvisational development and climax, a tradition that is also observed in this year's Kãrtëhl.
When the wonderful Zëss: Le jour du néant was released two years ago, many people thought that it would be their last album. Fortunately, they were proven wrong and the return of Magma is more than emphatic with a more optimistic atmosphere and a bright side as manifested in Kãrtëhl. Stylistically it lies somewhere between Attahk and Merci, and thus the element of black music (mainly soul, jazz, gospel) dominates, but this time funk rhythms give way to freer structures thanks to Vander's playing who appears in excellent form. Nevertheless, there is no lack of "ominous" moments – their trademark – either as complete compositions such as Do Rïn Ïlïuss, Walomëhndëm Warreï and Wïï Mëlëhn Tü (perhaps the highlights of the album), or as parts of other compositions. As always, the choral parts complement the main piano themes with harmonic phrases, giving a pompousness and at times redemptive expressions that determine the evolution of each composition. The electric guitar occupies a more subtle role, while Jimmy Top's basslines strongly recall the wonderful legacy left by his father and predecessor, Jannick, one of the founding members of Magma. The flawless production showcases the unwavering homogeneity, that we've become accustomed to throughout their discography. On the final track, Dëhndë, Vander once again reverently displays his soul sensibilities as he once did with Otis' unforgettable heartiness. There is even a demo version of the track from 1978 as well as a version of Hakëhn Deïs as bonus tracks.
Through Kãrtëhl, Magma recapitulates the various aspects of their long and adventurous history with maturity and respect satisfying old and new fans. Being active on and off stage, they seem refreshed and determined to keep their legend alive with a source of inspiration and creativity. The connecting links with the glorious past are present and unbreakable, they are present today with excellent releases. Faithful to his original vision, Christian Vander always makes sure he is surrounded by musicians who adapt their talent to his requirements and peculiarities with dedication. This is their best work since Ëmëhntëhtt-Ré.
8.5 / 10
Giannis Zavradinos
2nd opinion
No one would complain if Kãrtëhl was a typical zeuhl album, but once again Magma surprise us. And let's be honest, that's no surprise anymore. As unimaginable as this is for a band with a 53-year history, Christian Vander's creative vehicle is once again renewed even creatively, as three of Kãrtëhl's six original tracks were not written by the band leader. This time the main direction leans towards towards soul jazz, maintaining however the strict zeuhl character. In other words, Kãrtëhl is partly a return to the extroversion of Merci (1984) with the jazz sensibilities more pronounced and the typical epic element of the band remaining dominant, however paradoxical such a balance may seem. As a result, this is a record that old Magma fans will enjoy and the rest will continue to ignore, as it is perhaps the grooviest inaccessible album in years. Zeuhl delight!
7.5 / 10
Dimitris Kaltsas