[Rune Grammofon, 2019]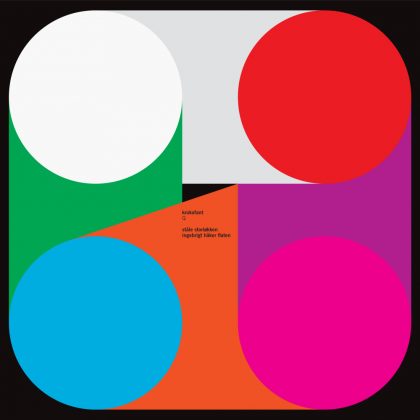 Intro: Vangelis Christodoulou
Translation: V. Christodoulou, D. Kaltsas
Krokofant is the latest addition to a long list of crossbred mythical beasts that comprises such dreadful celebrities as the Chimera and Manticore. It's also a Scandinavian candy. More than anything, it's the fusion between Tom Hasslan (guitars), Jørgen Mathisen (sax, occasionally synths) and Axel Skalstad (drums). Now that we've made their acquaintance, it's time to forget what we knew (or didn't) about them, as Q presents us with a totally novel outfit augmented by the none other than the stellar Ståle Storløkken (Elephant9 and Supersilent among many others) on keyboards and the master Ingebrigt Håker Flaten (Atomic, The Thing, Scorch Trio and a multiverse of collaborations) on bass. So happy are the band with this format, that they are likely to continue as a 5-piece. Hail the new Krokofant!
---
You gotta love the new Krokofant!
Since 2014, Krokofant have released three albums aptly named I, II and III on Rune Grammofon, one of the hotbeds for what's hip in their native and ever-evolving Norwegian scene. (Disclaimer: at this point I would normally feel so inclined to praise the scene for all the high-quality bands and recordings it has offered us over the years, regardless of the music style. But I will refrain.). As a trio, they engaged in heavy, ultra-groovy jazz-rock based on complex and repetitive lines that would lead to improvisational crescendos, and free-form moments. Think Last Exit jamming with Møster and King Crimson, or Terje Rypdal sitting in with Mahavishnu Orchestra covering Massaker. My favorite was by far 2015's II, but Q shows a band that has upped its game exponentially, not only on account of the new additional members bringing in their respective voices, but also because Tom Hasslan has advanced his songwriting to suitably incorporate them.
Undoubtedly, the glue that ties everything into a whole and propels Q to greatness is Ingebrigt Håker Flaten's brawny bass playing. Ingebrigt is a renowned heavyweight in the free jazz world and his contribution is not only that he lifted the bottom-end duties off of Hasslan's back, but also an incredible fierce, drive and fluidity. Combined with Skalstad's muscular drum-beating, the rhythm section is able to drift anywhere between the extreme intensity and pastoral coolness. The result is curious, complex, omnipresent and fat grooves that provide the rest of the quintet with the canvas to showcase their abilities on. Ståle Storløkken's impeccability is such that, apart from providing the compositions with the depth lacking from previous recordings, gives Mathisen and Hasslan permission to assume new roles within the new Krokofant and subsequently, new voices. The improvisational aspect and free-form nuances are still there, yet less prevalent but definitely more exciting.
If I had to choose a favorite track, that would be the 11-minute long Q part 4, the last one on the record, as it combines what Krokofant stand for: prog sensibilities, tongue-in-cheek melodies, hard-pounding pulse, melodicism, high energy and power.
Consequently, the new album is different as well as a necessary step forward for the band, compared to all three previous releases. The style remains as distinct as before, but the fresh sound suggests a new direction and opportunities. What's more, there's more to come!
9 / 10
Vangelis Christodoulou
2nd opinion
No matter how interesting has the hitherto career of Krokofant been, especially due to the jazz-rock experimentations and the energetic jamming spirit, none of their previous albums really hit me. Unlike Q. Here, the additions of the great Ståle Storløkken (keys) and Ingebrigt Håker Flaten (bass) act catalytically in coloring and giving depth and weight respectively to the somewhat 'raw' sound of Hasslan, Skalstad and Mathisen. As a consequence, the jazzy developments have a different dynamic, the real feel is 70s and yet -almost paradoxically- contemporary (only Norwegians can do this perfectly) and the rock melodies have a significantly higher gravity. The plot interest in the developments of the five musicians can only be compared to those of Elephant9 and -as incredible as it sounds- they are at least equal. The band's distinctive energetic style is no longer a concern. The flow of the songs is unmatched and the magnificent structure guarantees that every listening is a different, equally exciting experience. Brutal prog is more melodic and more epic jazz-rock is brilliantly more avant-garde, and there's not a single dull moment. Pure delight!
8.5 / 10
Dimitris Kaltsas