[Brainfeeder, 2020]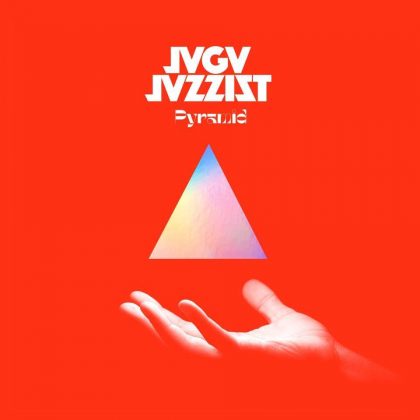 Intro: Dimitris Kaltsas

When brothers Lars and Martin Horntveth founded Jaga Jazzist, they were just 14 and 16 years old, respectively. The ambitious goal of mixing jazz with electronic music was quickly achieved on the band's stunning second album, A Livingroom Hush (2001). The jazztronica in The Stix (2002) was transformed into a richer mix of post-rock, ambient electronic and jazz-fusion in the now classic What We Must (2005), while in One-Armed Bandit (2010) the band made an absolutely successful turn to progressive rock. Five years later, Starfire (2015) continued in more or less the same direction and the beginning of the 2020s finds the Norwegian band making their new statement with Pyramid.
Jazz fusion, nu jazz, post-rock, progressive rock, ambient, electronic, experimental are just some of the tags that fit the music of Jaga Jazzist and the presentation of their new albums is an exciting experience, as is listening to their music.
---
The architecture of a music pyramid
The album Pyramid is the new, seventh adventure of the epic narrated by Jaga Jazzist since they were formed in 1994. Although the changes of both members and musical styles are a frequent phenomenon for the Norwegian band, their unrelenting mood for adventurous, experimental and progressive music is an equally fundamental feature. This mood prevails in Pyramid, which consists of four extensive instrumental compositions with an average duration of ten minutes. In this context, the eight-member group spreads its ideas, suggesting how nu jazz can sound at the dawn of the 2020s. And as is the case in some previous Jaga Jazzist albums, we can say that some compositions achieve their goal, and some other not as much.
Let me be more specific, presenting in a little more detail the pros and cons of the architecture of this music pyramid.
Let's start with the good news: throughout the album you enjoy nice and substantial playing, while the technical skill is unquestionable, and free from any element of self-indulgence. The production is modern, organic and very well balanced. In terms of music style, the band creates a dialogue between tendencies already highlighted in its older albums: electro-jazz (in A Living Room Hush), post-rock (in their best album, What We Must) and progressive rock (in One-Armed Bandit). It is noteworthy that this dialogue is often conducted within the same track.
A typical example of all these positive features is the opener, Tomita. The ambient jazz start, with an awesome saxophone improvisation is imperceptibly enriched with a downtempo electronic beat, which triggers a series of wonderful melodies played by electric guitar, winds and synths, which gradually lead to a euphoric post-rock outburst. Thanks to its elaborate structure, the kindness it exudes and the mental uplift it offers, Tomita is a remarkable proposal of modern jazz.
However, the next two compositions do not reach the same level. The alternation of musical themes, melodies and rhythms is not very well balanced so as to keep the interest of even the most devoted progressive fans. Track number 2 titled Spiral Era does develop slowly and minimalistically, like an imaginary spiral, but does not to evolve in a truly exciting way. The next composition, The Shrine, in which Cinematic Orchestra merges with Yes, consists of remarkable ideas, but also some mediocre moments. This subjective negative impression is reinforced by the abuse of retro synths that sound at least unnecessary to me.
In the last track of the album, Apex, Jaga Jazzist offers a more complete proposal. The composition starts in an abstract electro-jazz style, with a 4/4 dance rhythm, which unexpectedly turns into a space-rock phantasmagoria.
An overview of Pyramid leads to a basically positive evaluation. However, if the Norwegians want to evolve their sound, they need to get away from the standard crossroads that unite – sometimes successfully but sometimes incoherently – nu jazz, post-rock and progressive rock. I may be asking a lot from a band that started in the mid-90s, but I think that only if they cross new paths will they justify their apparent ambition to present essentially experimental and really progressive music.
7.5 / 10
Nikos Filippaios
2nd opinion
Pyramid satisfies the old friends of Jaga Jazzist to the maximum and with its fresh approach, the band definitely tries to make new acquaintances. Do not expect any sonic pandemonium, asymmetric structures or incomprehensible experimental passages here. Jaga Jazzist maintained their excellent technique and recorded a masterpiece of modern jazz with electronic elements starting from synthwave and ending in the neo-psych scene with breaths of post-rock, and basically they continue their personal sound.
One of the definite highlights of the album is the intelligent construction of the 14-minute Tomita, with its heavy backbone based on a continuous triple dialogue between winds, keys and a basic drumming rhythm, when suddenly somewhere in the ninth minute the group decides to boost the song by introducing an authentic prog escalation. In The Shrine, each note is strategically placed, in order to maintain the balance between the traditional and the modern, with emphasis on the latter of course. Apex is an almost authentic synthwave composition. Of course, as long as there are these incredible drums in the background to remind us that jazz must move forward and transform into something alive, there is no problem. Besides, I've never heard similar synth playing on absolutely any record of successful acts of this scene. And so it turns out that when excess talent is combined with great technique and individual inspiration, the result is good regardless of music genre, the instrumentation, etc.
8.5 / 10
Alexandros Topintzis