[Sound Effect Records, 2020]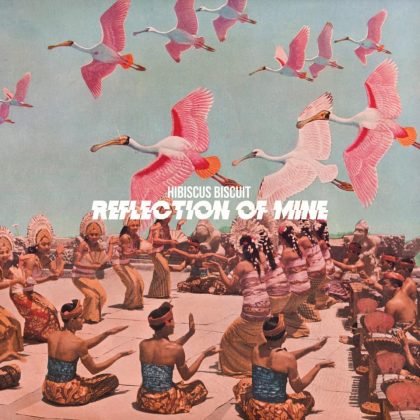 Intro: Dimitris Kaltsas

The presentation of debut releases is always a pleasant and interesting process, especially because little is known about new bands and there's always a mystery surrounding their first album. Take for example the Australian-Portuguese-Canadian Hibiscus Biscuit from Newtown, Sydney, one of the most recent additions to the new wave of psychedelic sound in Australia, a scene that grows rapidly year after year.
With Ricardo Moreira on guitar and vocals, Sy Dyson on keyboards, Jason Campbell on bass and Aidan Young on drums, Hibiscus Biscuit released their first full-length album, Reflection of Mine, through Sound Effect Records from Greece.
---
A unique 37-minute psychedelic experience
Hibiscus Biscuit's debut album is full of peculiarities, the most important of which is that although the eight tracks included differ from each other (some to a large extent), at the end of each listen you're left with the impression that this is a 37-minute homogeneous experience with variations and many surprises. The upbeat spirit that pervades almost the entire neo-psych Australian scene dominates here as well, while the intense psych jamming serves the structure of the tracks and the mood of the four musicians without derailing at any point.
If we try to find some references in the sound of Hibiscus Biscuit, the unmistakable psychedelic energy of King Gizzard & the Lizard Wizard comes to mind, as well as Mildlife's melodic smoothness, but with the jazz elements clearly limited. The atmospheric psychedelic rock of Ricardo, Sy, Jason and Aidan sounds like a wonderful melancholic lullaby, and yet their sound is impressively tight, with abrupt progressive syncopations and adventurous developments, rock 'n' roll outbursts, massive heavy psych riffs, frantic acid guitar solos, melodic trippy vocal lines, consistently groovy rhythm section and even wonderful communal spirit.
After listening to the album numerous times, it is really difficult to pick highlights. The truth is that none of the songs are monumental, but on the other hand there is not a single dull moment and that is enough for the album to take off through the high aesthetic level of Hibiscus Biscuit's music and the live feeling it exudes. Indeed, very rarely do we hear such fascinating psychedelic rock, which certainly sounds vintage and at the same time it's fresh, unpretentious, multifaceted and overall very convincing.
Reflection of Mine is the definition of an album. It only works when played from start to finish and what leads to each subsequent listen is the overall feel after these 37 minutes. It may remind you of the irresistible sweet melancholy during the party aftermath or the déjà vu feeling of petrichor delight when it's about to rain. This humid subptropical psych / prog amalgam is essential for our music collection.
8 / 10
Dimitris Kaltsas
2nd opinion
This summer started with a very pleasant surprise, the wonderful debut album of Hibiscus Biscuit from the land down under. The quartet from Sydney manages to combine frantic rock 'n' roll with melancholic psychedelic moments and intense guitar outbursts. Their songs have a spontaneous explosiveness as their psychedelic lullabies are interrupted by acid guitar solos and progressive developments. Here you can find songs with a psych rock mood (Wake Up, Sunflower Fields), prog elements (Don't Mind my Mind) and strong vintage feel (Velvet Sundays, Orange Trees).
Hibiscus Biscuit has managed to incorporate a lot of elements into their sound, from the 60s till today, but what makes their music so enjoyable is their upbeat nostalgic mood. This is the debut of the year, especially for those love music that involves physical movement. Hibiscus Biscuit is another promising band from Australia that never seizes to amaze us with new bands and amazing releases. Congrats to Sound Effect Records that brought such a wonderful album to light. Enjoy!
8 / 10
Kostas Rokas