Crippled Black Phoenix announced the release of their forthcoming studio album entitled Ellengæst. Here's the announcement posted on the band's official Facebook page: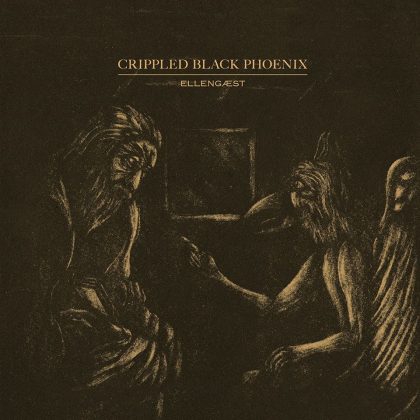 "Dear humans and non-humans.
This album was recorded at the end of last year so we're super excited to finally let it go free into the world, it feels like it's a new age for CBP, we're embracing the change.
The songs are a collection of thoughts and feelings which all relate to how we exist in the world but also it's about crossing into the other dimensions, how we all have spirits and demons, how we can be strong and also weak. How we miss loved ones and also lament the human race.
Ellengæst which, in Olde English translates to "mischievous demon," but in Scandinavian as "strong spirit," represents Crippled Black Phoenix's duality.
The awzumn artwork by the astonishing Thanasis Stratidakis / Erebus art really expresses the theme of the album, it visualises the spiritual aspect of Ellengæst perfectly. There's an atmosphere about it which draws you in.
The very core of Crippled Black Phoenix – consisting of Belinda Kordic, Helen Stanley, Andy Taylor and of course Justin Greaves – is joined by some close friends ready and able to lend their considerable talents to conjure a special kind of vocal magic on this album.
Stay tuned for the guest vocal announcement later this week!
Ellengæst tracklist:
House Of Fools
Lost
In The Night
Cry Of Love
Everything I Say
The Invisible Past
She's In Parties
Recorded at Chapel Studios, Lincolnshire (UK)
Engineered by Pieter Rietkerk
Produced by Justin Greaves & Karl Daniel Lidén
Mixed/Mastered by Karl Daniel Lidén, Stockholm (SE)
Pre-Sale starts on July 28th, 2020
More exciting Ellengæst info and sounds coming very soon! Keep vigilant!"