[Melodic Revolution Records, 2019]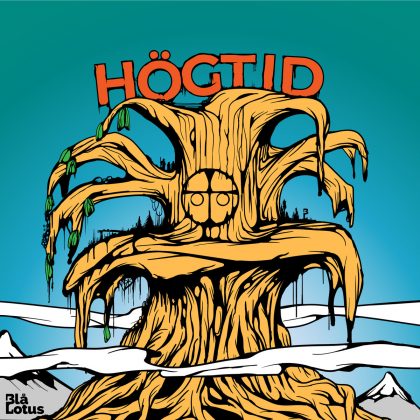 Intro: Thomas Sarakintsis
Translation: Vangelis Christodoulou
21 / 08 / 2019
Fredrik Andersson's masterful playing and compositions in Tube Alloys, still resonate (our reviews here). In any case, not much time has gone by since Blå Lotus' debut. Their predominantly heavy, albeit no six-strings-allowed old-school prog that sets them apart from the masses is continuing its march via their sophomore Högtid. At first, we wonder if it does vie with Tube Alloys in terms of quality, as well as whether it is sufficiently differentiated so as the band's progressive character is confirmed.
---
Hammond solstice celebration
As the band and especially the mastermind Andersson have stated, the album's title refers to the various holidays within the year. The Scandinavian prog aficionados may recognize that that's also how Agusa named their first output. It will be shown that the association is purely incidental.
The kickoff is almost thrilling with Pagan Solstice setting the mood. Really, a knocked-down prog/psych epic as if Murphy Blend and Orange Peel sat down to collectively put together a few tunes, with John Lord sitting in and no guitar-laden abstractions. Hazily delivered with utterly convincing and reverb-fused vocals by Andersson, it permeates the dark psychedelic vibe with a folk measure. Open Hand on All Fours has been made known to us via the band's social media: Orchestral farfisa/hammond beat evoking the early Iron Butterfly and Atomic Rooster, the song is indicative of the way Andersson composes.
Unreal Estate cuts the widest swathe and is definitely one of Blå Lotus' finest compositions. It is an extensive symphonic-organ hippie masterpiece, with the frantic keyboard grooves marching either merrily or psychedelically. The doomy While You Were Asleep stands out through its hypnotic/dark vibe, yet it fails to embody the band's creative buzz. Gånglåt sandwiches as the orchestral interlude between the aforementioned and the long-winded Summer Demons. The latter begins with a Lady Fantasy (Camel)-inspired intro to evolve into a classic Blå Lotus song with its psychedelic hammond organ sound, a composition at least exciting. At last, Rats'n Brats is a straight descendant from the long-lost hammond-rock 'n' roll archives from the 60's.
The Swedes perform once again very well compositionally, reaching perfection but for a slight letdown regarding the 3rd and 6th tracks. Andersson's keyboard skill, as well as Linus Karlsson's and Wiktor Nydén's on bass / theremin and drums respectively, are exceptional. What, however, has to be pointed out, is the need to differentiate between albums from now on, without losing their touch.
Further employing wind instruments (the use of saxophone would be very interesting, for instance), as opposed to their very limited current presence, would prospectively refresh the band's sound. Unless they dare evolve their style, the Swedes are likely to fall into the trap repeating themselves. Blå Lotus should get rid of any hobbyhorses, were they to enhance their sound, even if they keep paying homage to their favorite 70's british and german prog influences.
7 / 10
Thomas Sarakintsis
2nd opinion
Blå Lotus' first album was one of last year's finest. Their love for the 70's and mainly for bands like ELP and Uriah Heep, is evident throughout their sophomore, showcasing astounding honesty and the best of intentions. The American psych influences as well as the trippy bits have toned down, thereby promoting more straightforward Brit-inspired heavy-rock moments. While the guitar is absent here as was in their debut, the need for a heavier sound is compensated via analogue instruments and more prominently the hammond organ. The extended tracks are not tedious, with the longest Summer Demons being my favorite.
Comparing it to their debut album, I would grade it a tad lower and that's due to the lack of further influences represented here. However, it would not surprise me if someone preferred Högtid for its up-tempo quality.
7 / 10
Petros Papadogiannis