[Bad Omen Records, 2022]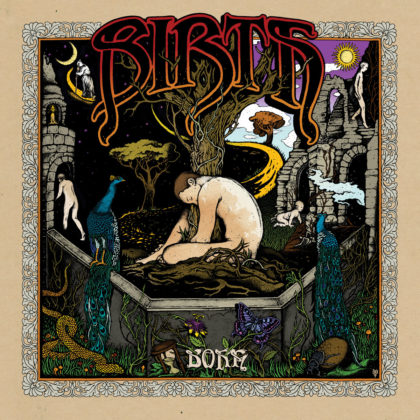 Intro: Thomas Sarakintsis

The two Astra records and the only Psicomagia album are frequently mentioned. These are masterpieces, music played by musicians with huge potential. The music of both bands made us rub our ears without any exaggeration, so their absence was very much felt. Birth's first full-length album (preceded by the self-titled EP) features members who participated in the aforementioned bands. The line-up has already been announced, members of which (some less and others to a greater extent) defined the sound and style of Astra and Psicomagia. So let's devote ourselves to listening to a highly anticipated release, hoping for a continuation similar to what had preceded.
---
Artistic and aesthetic reference to the past
As the amazing cover shows, the band deals with the fact of the birth of the human species. Americans are inspired by this issue and clothe their existential concerns with music. The cover vividly represents the biological components of existence and mirrors the musical side. Listening to Born is an otherworldly experience as images are transformed into sounds. Sounds that belong in another realm.
The arrival of Born came soon after release of the band's EP, which we have been diligently digging into. Three compositions from the EP (Descending Us, Cosmcic Tears, Long Way Down) are also included on Born. The weaknesses here aren't striking at all, not even obvious. Instead, the six compositions are built on a smooth, fervent and clear prog idea, with epic/lyrical extensions (Another Time, For Yesterday), emotional outbursts (Descending Us), elaborate themes (Long Way Down), and even traces of Burn-era Deep Purple (the funk / soul intro of Cosmic Tears). In total, out of the six compositions, two are instrumental, and they are excellent (Born, Cosmic Tears), while underlining the very good and catchy vocals of Conor Riley, which is not a rule in vintage prog forms. On the contrary, good voices are quite rare.
A great thing that's obvious from the first listens is how well hidden are the band's influences. Undoubtedly, their psychedelic prog rock with hints of symphonic and space rock is a product of the European school. After listening closely, we realize the influence exerted by ELP, Pink Floyd, Nektar, Camel and also Italian prog bands. Somewhere between all of these, and with the strong sonic identity provided mainly by Brian Ellis and Conor Riley (responsible for the production as well, and mostly for the final result), the sonic vision of Birth takes shape.
Another positive feature is that Birth does not pick up where Black Chord or Psicomagia had left off. Without causing shock or sailing in uncharted waters, it is a self-luminous album and adds extra points to the band's resume.
Although deep down we're hoping to see the Astra logo on a new album again, Birth's music is excellent. Plenty of substance and sophisticated compositions, performances with imaginative and adventurous themes, prog that refers to another era but is a product of today's developments.
8.5 / 10
Thomas Sarakintsis
2nd opinion
San Diego psych / prog outfit Birth just released their first full-length entitled Born. The group of these talented musicians settled on the West Coast come together to shape an album that comes from the exclusivity and elegance of the most complex part of progressive rock, strongly anchored by the feeling of the 70s. The overall sound has Astra vibes at times but the guys took a slightly different approach to songwriting and playing and it seems that they have learned their lessons well, understanding the importance of building slowly, holding interest by sustaining a heady atmosphere, and when necessary, restraining themselves long enough to create dynamic tension, and captivating experience. There is a subtle balance between the Mellotron sounds and the guitar parts. Vocally, it's a little monotone, but it does go well with the general melancholia mood of the music, which is quite dark. Everything here sounds clear and fluid, without any help or trick at the production level. There were quite a few good vintage prog albums in recent years but they failed to recapture that 70s free spirit and atmosphere. Birth did it almost effortlessly on Born.
8.5 / 10
Goran Petrić