[Self-released, 2020]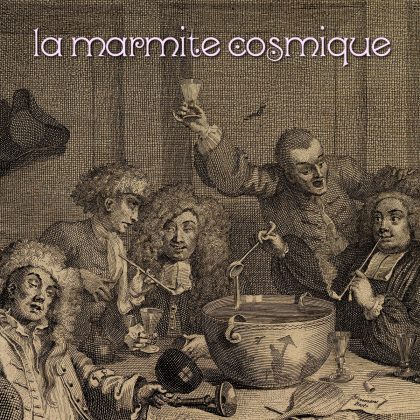 Intro: Kostas Barbas

Arnaud Bukwald is one of those musicians who work in isolation within their artistic microcosm and create without companions, while they are also fans of the genre they play. Bukwald calls himself an underground troubadour from France, as well as a singer, composer, orchestrator, multi-instrumentalist and astronaut. Apart from being an astronaut, he practices all the rest in his discography, which started in 2011 with Bizarremporium and continued in 2013 with Mysterious Vampire. He has also released covers of Pink Floyd and Gil Scott-Heron songs. Since then, he has worked on a series of albums with the general title La Marmite Cosmique. The sixth part of the series was released this year.
---
A chameleon prog suite
In the sixth part of the La Marmite Cosmique series which was released in September and adorns a diverse discography, Arnaud Bukwald with his moderate genius manages to combine genres and moods with subtle layers of poetry and romance. The two tracks function as two poles that spread soundscapes, recalling the multilevel evolution of progressive rock from since its birth. Of course, the psychedelic passages are not absent as an improvisational passage when the themes are exhausted, and thus in this clever, trippy way they are completed.
Conte Lunaires opens with a zeuhl atmosphere and the characteristic vocal invocations accompanied by wind instruments which add a symphonic dimension. What follows is  more jazzy, closer to the Canterbury scene. The references to Soft Machine evolve into more melodic passages with flute which end up with something that seems to be the heart of the composition. Poetry and romance prevail in a beautiful folk moment with female vocals reminiscent of Renaissance (Ashes Are Burning and Turn of the Cards era). The circle is slowly closing with the aforementioned characteristic elements alternating with dreamy paths and the saxophones on a leading role in themes with jazz shades but no improvisation outbursts. The epilogue is sealed with the organ accompanying the lead guitar with a pompous snout.
Dynamogeny begins as a lyrical Floyd-ish ballad with the à la Bardens keys intervening until a wonderfully nightmarish point enters and then is interrupted in a rather funny way. This is followed by a prolonged synthesizer solo, which by the way is the psychedelic basis of Bukwald's music as a common component throughout his discography. Exotically hypnotic with a repetitive rhythm, it's left to the freedom of its creator until it ends. Excellent sound with great performance and an unwavering love for music.
It is truly admirable that an artist inspired and edited the stitching of ideas in a special and so personal way. This is not a typical case of one-man band. There is vision, depth, generosity, and productive "insanity" that is embodied with exemplary seriousness. Bukwald's diverse personality is fully reflected in this album which is the ideal motivation for a more thorough research into his previous releases and inspires anticipation for those to come. His ambition and consistency give us the right to hope that his next steps will be even more exuberant and homogeneous, worthy of his talent. La Marmite Cosmique adorns an already interesting year in music.
7.5 / 10
Giannis Zavradinos
2nd opinion
The sixth part of Arnaud Bukwald's La Marmite Cosmique comes from the underground depths of progressive rock and is addressed mainly to those who dig deep into the genre. It is clear that Bukwald loves the 70s and gives us two long pieces with many influences from that era. As a Frenchman, he has the avant-garde element in him and above all the version given by Magma. This does not prevent him from giving a strong symphonic character to the compositions, while at the same time using the echoes of the Canterbury sound, as many musicians from Central Europe had done in the past. The first composition, Contes Lunaires, easily stands out, and is the main reason for someone to listen to the album. Dynamogeny that follows begins nicely and Floyd-ically, but then gets very knotty with the experimentation he attempts. Bukwald proves to be a very good player in all the instruments he uses, but truth is the lack of musicians other than the female vocalist is obvious. The final result, however, justifies him as an independent artist and makes us anticipate a possible seventh sequel to the series.
7.5 / 10
Kostas Barbas