[Crammed Discs / Almost Musique, 2017]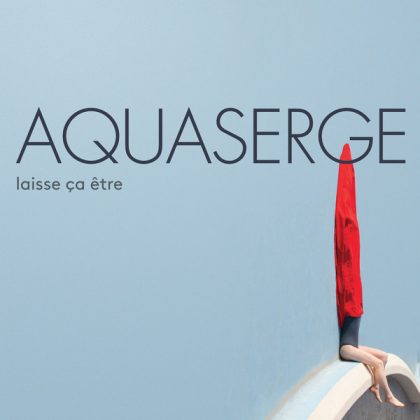 Intro: Dimitris Kaltsas
Translation: Alexandros Mantas, Dina Dede
27 / 03 / 2017
Aquaserge is but one out of a bunch of exceptional bands hailing from France, yet their individuality is remarkably attractive. After numerous member changes, as well as musical directions, it is a quintet consisting of Benjamin Glibert (guitar, vocals), Julien Gasc (keyboards, vocals), Manon Glibert (clarinet), Audrey Ginestet (bass, vocals) and Julien Barbagallo (drums) that delivers their fourth full-length album entitled Laisse Ça Être. As regards the musical direction, the band seems to be more focused than ever.
---
Cinematic experimentation
Let's begin with the obvious conclusion which is drawn right after the initial listen to Laisse Ça Être: this is by far Aquaserge's best album to this day, without having the slightest intention of demeaning their previous albums. The reason for this lies not only single-handedly in the inspiration that undoubtedly played its part in giving birth to a number of awesome tunes. Aesthetically, Laisse Ça Être is definitely a rare and extremely difficult achievement. The spirit of the album is akin to cinema, an impression that sneaks as a mere suspicion in the beginning, which is verified shortly after and dominates until the end. After all, it is well known that the recording sessions of the album have been documented by Guillaume Bordier and will be released as a documentary entitled Un Film d'Aquaserge. Since the cinematic feeling that the album emanates is in pride of place, the impeccable arrangement shifts its focus from avant-prog to pure art-rock, psychedelic and adorable French pop, vintage in style, yet sounding definitely modern (οh yes!).
In the end, repeated listens lead to the same conclusion. It's bloody hard, nay impossible, to pick up favourite tracks out of a peculiar and enviably coherent –yet diverse– outcome with such a fascinating flow. This is because each song seems to gain extra value simply by being part of the album. Taking the above also into consideration and having a go at what is probably pointless, I'd venture to say that three tracks make the cut: Virage sud, thanks to its brilliant rhythmic change, the melodic eruption of the keyboards and the psychedelic ending, Tintin on estbien mon loulou due to its heavy groove plus the addition of a pop/prog break and, above all, L'ireest au rendez-vous which is the most adventurous track in here, where the ambience, pop, avant-prog, sweet psychedelia and Aquaserge's ability to create sceneries in the listener's mind's eye converge. Maybe also because it is followed by the most cinematic tunes that bookend the album. I leave it at that. It is pointless, indeed.
Aquaserge have based their music on experimentation right from the start and in Laisse Ça Être they did it, if anything, successfully. Listening to this album, it seems an easy task for a band to sound tight and balanced while playing technically demanding, and at the same time entertaining and smooth music with such a personal style, honouring their origin by marrying prog experimentation with French cinematic history.
8 / 10
Dimitris Kaltsas
2nd opinion
The French avant-prog band Aquaserge has returned with a pleasurable musical gem. The term 'avant-prog' successfully encompasses heady psychedelia, pop, jazz and afrobeat touches, and the band is clearly enamored of Serge Gainsbourg's music. The experimentation is aligned with rich instrumentation and manages to deliver an eerie album that oscillates into avant-garde techniques, complexity and contemporary groove. The clarinet, guitars, keyboards and drums are perfectly balanced according to each song. Additionally, the vocals are ideally avant-prog-ish, completing the instrumental virtuosity and tightness of the band. In the latest songs, some cinematic elegant moments complete the soundscapes with a romantic yet hypnotic and trippy aesthetic. The Frenchy feeling of joy and prosperity that is derived from simple structures proves the brilliant work of Aquaserge. Thus, an intense need for cohesive artistic pop music with respect to Zappa's eccentric coolness and adventurous psychedelic trips would recommend such an album.
8 / 10
Dina Dede