[Nuclear Blast, 2017]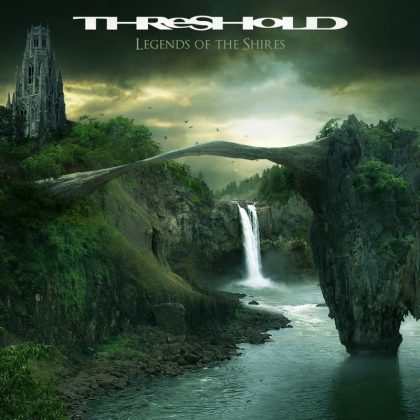 Intro: Alexandros Mantas
Translation: Alexandros Mantas
12 / 09 / 2017
I don't think I'm going out on a limb by saying that the replacement of Damian Wilson by Glynn Morgan as well as the departure of Pete Morten who wanted to focus on My Soliloquy and thus leaving Karl Groom as the sole guitarist within the first trimester of 2017, were two changes that got us wondering where the progressive metallers were heading to (even though for me this term somewhat puts them in a pigeonhole, I think that anyone who likes his metal a bit more adventurous should check them out – and ask themselves how they lived so long without knowing them). But the answer is here, a double concept album (their first one) and given that Lost in Translation and Small Dark Lines where available during summertime having us rubbing our hands, we can finally listen to all of the "legends".
---
Trust the Threshold process
As I was listening to this album, I couldn't help but picture in my mind's eye some old friends meeting after donkey years and chewing the fat about too many and various things. They have basically remained the same, excluding some trifle changes that time and experience inevitably impose. The "old friends" here are Glynn Morgan and his old bandmates, "too many" is translated into 83 minutes of music –in case you think it is too much, have my word and hold your horses. "Various" means either straightforward compositions, or proggier ones or more relaxed tunes. Finally "basically the same" means that they still write something only if it is worthy and adds to the song and not just filling it (be it a theme, or a solo, or anything else), their lengthier compositions never make you feel that you do listen to something lengthy, they compose catchy choruses and melodies and they maintain this ability of theirs to communicate with people who are not musicians in spite of their tremendous technical skills.
From the starter The Shire (part 1), which uncannily brought to my mind the amazing cover, until the end, the quality of the ideas is such that the listener barely realizes when the album comes to its end – always a good sign. Even the less capturing songs like On the Edge or the closer Swallowed (a tad cheesy) don't fall into the category "I wonder where their head had been", they do have some solid parts; but Legends of the Shires as a whole consists of songs that are unlikely to leave their old fans cold (or new ones that take delight in prog metal) like the more complex, but always meaningful The Man Who Saw Through Time, Trust the Process, the now favourite Lost in Translation or Snowblind (this one somewhat reminds me of Elusive and One Degree Down off Dead Reckoning) or the more straightforward and catchy Small Dark Lines and Stars and Satellites (this one verges on AOR). In general, the album is more accessible and easy to listen to, compared to their previous ones.
There is still one piece of the puzzle that is missing and this is the lyrics because they are usually such that I always can relate to and the line "this life is not for me" that I picked on the second part of The Shire has warmed me up for good. But this issue is soon to be addressed because the album is now officially out. Vinyl of course!
PS: I see that a lot of ink has been spilled over Legends… My friend Goran Petrić posted on his wall the simple status "They did it again". As simple as that, the best review. Some bands never fail you (excluding the fact that it took them so many years to come back to Greece. Inexcusable, guys!)
7.5 / 10
Alexandros Mantas
2nd opinion
One more album from the British Threshold, a band that is a byword for good value and consistency in the prog metal field. Damien Wilson is not around anymore, but with Glynn Morgan back to fold they pulled off to add an album to their legacy they can boast about. Morgan does not possess the vocal range of Wilson, but he does possess an amazing tone and he sounds as if it was yesterday that the amazing Psychedelicatessen hit the racks. Small Dark Lines, Lost in Translation, The Man Who Saw Through Time and Trust the Process are, in my opinion, some of the best tunes they have ever done. The album, even though it does falter slightly at some parts, keeps the listener on the edge of their seat, it maintains a nice flow and its production is impeccable and luring. Everything that the fans of the band are attached to is here: amazing lead and rhythm guitar parts by Karl Groom, superb keyboards by Richard West who is, as always, meaningful, tight rhythm section, catchy choruses and riffs that go straight into your head. The marks detracted are solely because of the fact that they stay tethered to the ground they can walk blindfolded and don't take their chances to try something different. But this is way too much to ask from the band. If you are fond of them, have no second thoughts; after all, they have never failed us.
7.5 / 10
Tasos Poimenidis