[Sensory, 2021]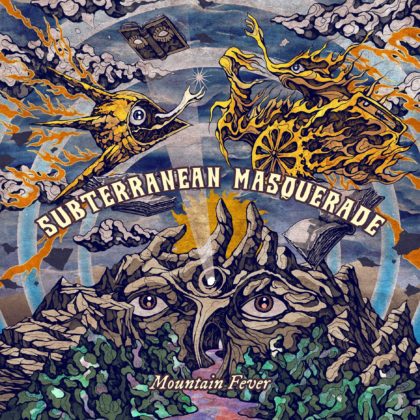 Intro: Dimitris Kaltsas

I don't know if Tomer Pink (guitars, main composer) imagined where Subterranean Masquarade would be 24 years after their birth. It might not matter that much, but by observing the trajectory of the Israeli band you can see that there is nothing easily predicted. The EP Temporary Psychotic State (2004) was their first recording step and with their  two full length albums, Suspended Animation Dreams in 2005 and The Great Bazaar ten (!) years later, they confirmed their talent while developing their unique sound. The progressive metal and progressive rock mix with folk elements from their country could theoretically refer them to Orphaned Land, but there are differences.
---
Time for a change
For various reasons, the line-up of Subterranean Masquerade was changed in 2018, a year after the release of their third album Vagabond, to become 100% Israeli. Kjetil Nordhus and Paul Kuhr are gone, Davidavi Dolev in now the sole singer becomes, and a third guitarist is added to the new line-up.
The compositional structures of the album tend to be like a mosaic. The band's biggest weapon is still those catchy melodies, which are ringing strong and clear in pretty much every song. Traditional oriental instruments are regularly in the spotlight, On the other side of the equation, which is prog, things have changed a bit. The overall sound leans towards progressive rock more than progressive metal and despite the complexity, the emphasis was put on "easy-to-like" material. The production and mastering are done pretty well and the sound does not suffer from any weakness, allowing us to fully enjoy the album.
The band members are top performers, each of whom has his own system of musical values. And these diverse views surprisingly converged at one point, take a uniform shape thanks to the band's mastermind, guitarist Tomer Pink. Apart from the great sound quality which is essential for an album of the genre, there is such diversity and such richness, that prog fans can only love it for a long time. The elements that really make the difference are the passages including oriental melodies and the use of various instruments (violin, cello, bouzouki, oud etc.). Their presence naturally brings an undeniable enrichment to the music. Mellow songs and ballads, especially Diaspora, My Love and Mångata are the strongest tracks of this record.
The band has opted for clean lead vocals in the greater majority of the vocal sequences, but still with room for some dark growls and core howls. In my opinion the best song to define the great musical variety of the album is For The Leader, With Strings Music. For eight minutes and a half we have everything that embodies Subterranean Masquerade: tempo changes, dark atmosphere, extreme and clean vocals, oriental parts, even a very nice saxophone passage. A truly majestic prog track with an exceptional Gilmouresque guitar solo (btw I'd like to hear more emotional solos like this one). Somewhere I Sadly Belong is an ambitious song but the use of kinda forced core vocals ruins my enjoyment.
Overall, Mountain Fever is a very solid album in which the band pushes the boundaries even further by non-metal influences and diverse ideas marking a peak in creativity. Highly recommended to all fans of the modern prog metal/rock sound.
8 / 10
Goran Petrić
2nd opinion
Subettanean Masquerade in their fourth album Mountain Fever offer us progressive metal with oriental scales and sometimes brutal vocals, in a style very similar to their compatriots Orphaned Land. In this release, there is a lot of emphasis in the clean choruses and in the memorable melodies that are being supported by the voice of the newcomer Davidavi Dolev due to his vocal range and his theatricality. Musically, other than the folk elements, there are some jazz touches here and there and moments that are reminiscent of Spock's Beard but the compositions are mostly quite safe. Furthermore, even though the extreme vocals are widespread in progressive metal today, this album could do without them, listen for example the useless change in the hit Somewhere I Sadly Belong. However, the clean vocals elevate songs like Ascend or Snake Charmer that are made for concerts, while the less standardized track For the Leader, with Strings Music presents a different fold of the band that we would like to see more of. As a result we have a fun record which has good production and mix that stays fun to listen to especially for the fans of oriental touches. I doubt however, how much this album will be talked about especially in a genre that has high demand and that is already much more boldness.
6.5 / 10
Meletis Doulgeroglou