Lüüp's upcoming live performance at Temple Athens is certainly much different than any other concert, at least in Greece. The mixing of so many different elements in Canticles of the Holy Scythe (our reviews here), the dark atmosphere, the participation of Attila Csihar and many other talented musicians made this interview an imperative task for us. Stelios Romaliadis, the mastermind behind Lüüp's music, analyzed his artistic vision and intensified our impatience for Lüüp's concert on February 8th.
 Questions: Alexandros Topintzis, Dimitris Kaltsas
---
Hello Stelios! After expressing our admiration for your latest album, Canticles of the Holy Scythe, we would like to ask a relatively obvious question: why does this live come almost two years later to concern us (and obviously to fill us with joy)? Did the preparations start a long time ago?
The truth is that we had to find the right musicians for each piece and especially the vocal role of… Death in Stibium (Triumph of Death) is quite demanding. Discussions and plans for this live have begun since the release of the album in December 2017 but it is very difficult to organize and to have everyone available for the show.
Attila Csihar's participation is a perfect highlight for those who know his performing skills in this field. After asking about the details that led to this decision, we would also like to know if there will be a future in this collaboration.
I follow the career of Attila since De Mysteriis to the present day and his course and performing palette are very impressive. His collaborations are also excellent and he is interested in exploring new directions so I had been thinking for a long time to offer him a partnership. Apart from composing, I am very interested in improvisation, to which Attila is also very experienced. I will be very happy to continue our cooperation in the future too!
Lüüp's music, especially after the final album, extended the experimental character of the band even further. Under which criteria did you choose the right musicians for the upcoming concert at Temple Athens?
The music in this album has a background of "classical" music, so it needs such a treatment, as a chamber orchestra. The composer Nikos Panagiotakis who will conduct the whole thing will give us great help in all this. There will also be an improvisational part so the musicians should be skillful in this side as well.
How did this turning of Lüüp's music into darker paths come about? Was it something you wanted to do a long time ago?
The truth is that I do not plan what to record each time, I definitely want the albums to differ a lot, but I'm looking forward to finding an orientation that gives me some possibilities for a "classical" ensemble and combine some of my influences. That is, the turn of Lüüp's music is happening in a strange way every time, where the anticipation of a "sign" and the distancing from the previous material predominates. For this album, I remember when I listened to Hérésie by Universe Zero, then I just listened to a Darkthrone album, and I got the idea of a connection between these two worlds. So to an extent of persistence I tried to match them with the classical music of the 20th-21st century. To find common ground, more in terms of mentality and atmosphere. And suddenly the questions find answers as long as you are doing more… Of course the effect is also influenced by the personality of each participating musician. I am very pleased with Canticles of The Holy Scythe and the truth is that I feel there is still ground for exploration in even darker paths…
Lüüp's relationship with folk music seems to be different from what we have heard here and there lately in more commercial releases. Your own approach, judging by Γιατί Είναι Μαύρα τα Βουνά, perfectly matches the "epicness" of polyphony with the minimalistic sound you are building. How difficult is it to incorporate tradition into the western sound without altering their character?
The basic idea here was to make a polyphonic song as close as possible to its original form as it is widespread in the Balkans and to harmonize it with a completely different approach than it is customary. I also studied the work Les Noces by Igor Stravinsky, which I consider to be one of the most important works of all time and in which he has achieved exactly what you say: "to incorporate tradition into Western sound without altering its character."
Black metal is a key aspect of the influences on Lüüp's latest album. But especially this has to do with the atmosphere and the use of some vocals. Is there a possibility to add electricity to what you do in the future?
I try to put obstacles to myself and not make the easiest solution of putting an electric guitar to connect the black metal sound… but I am always open and I can not rule out anything. I imagine that even if I add electricity in the future, I will find a way to put some new obstacles to myself with some other factor.
The sonic amalgam created by Lüüp on their course certainly belongs to the underground scene, the darkness of their music could not belong elsewhere. But we long to see and listen to this music in one of the biggest venues available now in Athens. What do you think is needed in order to find yourself on the stage of Στέγη Γραμμάτων, Λυρική Σκηνή ή or Μέγαρο Μουσικής?
I do not know exactly by what criteria these venues choose the artists but nothing is impossible… That, of course, does not mean that we will not belong to the underground scene. I feel like we belong to the underground and I would not want something different, in the underground scene lies the revolution, the devotion, the love that music needs and Art in general.
The progressive element in music is now measured in terms of mixing things, influences that are done at least in a proper way. Easy access to information is the logical explanation, but it is extremely difficult for the listener to follow a clear path. What is your view about how music can follow a real evolutionary path rather than simply circling around itself?
I think the only solution for the musician is to be honest and to follow his heart in what he does. Only when you are true to yourself and trying continually you have a chance to make something satisfying (I do not know if I have done that). Honesty, devotion and love are the most decisive factors.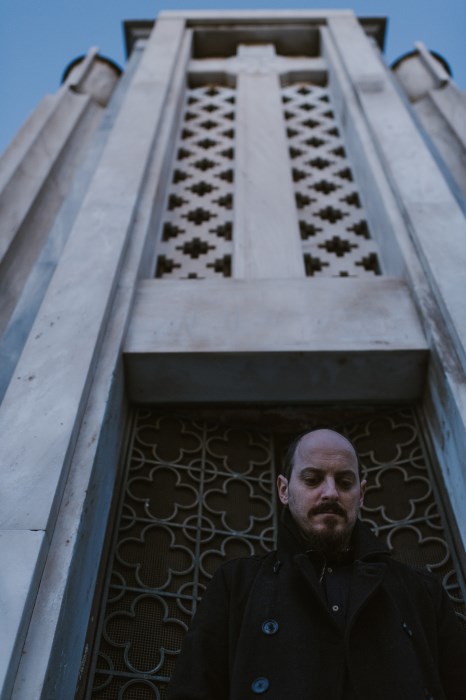 For me, the evolution of music is something that we can only understand from a distance, and probably not us, but the next generations. We study the heritage of the evolution of music and try to propose our own truth.
The live performance of Canticles of the Holy Scythe is a very difficult task, which is even more ambitious with the participation of all the talented musicians who will play. How many people shall we watch together on stage and how easy is the coexistence of all?
The ensemble consists of 13 musicians who will alternate in each track, that is, each track has a different orchestration, so each track will have a different set of musicians. In Part B 8, musicians will make a free improvisation based on a dark sound. Costin Chioreanu, who will come from Romania, will do a live painting, and we are very happy about this.
It's hard to play this material live, but all the musicians are great! I will be the weakest link…
We wish great success in the concert! Maybe this is the moment when Lüüp's music will find many new friends in Greece, you definitely deserve it. Stelios thank you very much for the discussion.
Thank you for your interest! At the concert there will be an element of surprise even for us.