[Self-Released, 2018]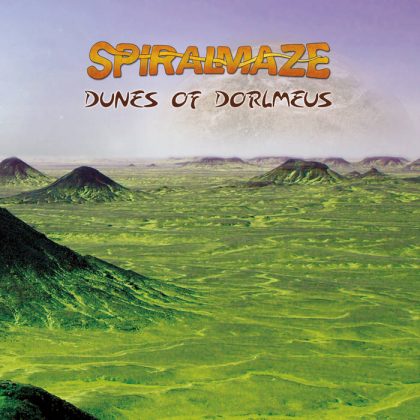 Intro: Dimitris Kaltsas

This year's release of Dunes of Dorlmeus by the Cretan Spiralmaze reminded us how quickly four whole years have passed since the release of the band's debut album Back To The Center, an album that had impressed us very much (our reviews here).
However, the truth is that while listening to their second album it feels like time hasn't changed much (or anything) in the band's character and its musical oreintation. And that is great news.
---
The astral trips continue
In their second album, Spiralmaze continue where they had left off with their first album. Their love for space / psych / prog music leads them to a defined sound spectrum, which they know ABSOLUTELY. And it's precisely this word that distinguishes Spiralmaze from the rest of the bands we hear from time which also play similar music. The Cretans are excellent composers and musicians and fully own the secrets of the 'astral trip', which is not only decorated with the familiar keys, but mainly build it ABSOLUTELY (this word again) magnificently.
Thus, in Dunes of Dorlmeus of course you will hear the harvest of Ozric Tentacles, though executed and structured in such a way that not only does it not bother, but rather excites. With the almost perfect production as a given, here we do not deal with another Ozric clone, but with the ABSOLUTE evolution of this particular sound. The exceptional variety of synths (for example listen to the last song titled Jimmy the Dog), the guitar ingenuity, and especially the way the melodies maneuver through each track, prove that these are not mere jams, but for thoroughly worked compositions.
Beyond the trippy, space atmosphere that is diffused throughout the material, you'll discover grooves (FTFO), a lot of synthwave (Laccadive), ska passages (Dunes of Dorlmeus) as well as imaginative and well-developed prog rock (Third Zone). The success of Spiralmaze in their second album is due to the fact that, even though we more or less know what we will hear, they constantly surprise us. And this constant addition of different elements (e.g. a bass solo or jazz drumming loops) is done without spoiling the flow of the tracks. That's because those who like doing these "trips" give extraordinary importance to smooth flow, a balance of dynamic and quiet parts. Hence, the lack of turbulence on familiar paths will certainly reward you with an unforgettable journey to the world of Dunes of Dorlmeus
.
8 / 10
Alexandros Topintzis