Intro: Dimitris Kaltsas
Tribute to Keith Emerson
In this column we pay tribute to great musicians who influenced, in their own way, indelibly the music we love. Unfortunately, the pressing reason for such a tribute is also the saddest which is the same like Daevid Allen and David Bowie and of course the same goes for the sudden tragic death of the great Keith Emerson. Τhe case of the pioneer pianist and keyboardist is even more exceptional, given that this musician is one of the most iconic figures in the history of progressive rock, one of the main forgers of this sound and even responsible for the birth of this genre in the late 60s.
Emerson's influence on the taste of every progressive music lover is almost inevitable. This time the editorial team of ProgRocks.gr gives step to Greek prog musicians who bid farewell to Keith Emerson in their own way by choosing their favourite moments from the tremendous career of our favourite musician.
I remember while still in high school, around the end of the 1970s, I borrowed a tape of Brain Salad Surgery from a classmate with whom we exchanged progressive stuff. There was a piece in there that started imposingly and in the process it went through meanders with themes and transformations, sometimes noisily and demonstratively, sometimes simply and sometimes triumphantly…
This is how I was converted to Karn Evil 9 that stayed at No. 1 of my preferences for months to come (that solo of electric guitar with modulation, after the middle section of the 1st Impression literally blew me away), and it is one my favourite tracks even to this day. I feel it is a milestone in the history of progressive music.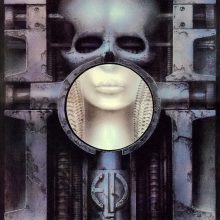 Shortly after, thanks to another childhood friend, I became owner of an authentic copy since 1974 of Welcome Back My Friends … and so began the journey of discovering the enjoyable world of Keith Emerson!
Keith Emerson represents for me (along with Rick Wakeman) one of the leading progressive musicians of the 20th century. Not only did he master a plethora of keyboards, but also he honed his own style (especially the with the moog synthesizer) and, mainly, wrote amazing, original music combining rock, jazz and classical music in a unique way!
I will not dwell at all on the "extremes" he did at times on stage since the era of Nice, or the scandalous luxury in which he lived on when in E.L.P. as a rock star after a certain point, setting the tongues of malicious critics wagging. For me, this aspect does not smear in the slightest the magnitude of his music. It is this magnificent music that never ceased to be his main concern for the last 50 years or so. Farewell Keith. Thank you for your gifts…
Given the fact that I am a guitar-based musician and I would generally pigeonhole myself as a metalhead, it's amazing how a band, almost totally stripped of guitar parts, has impressed me so much. Of course, this does not mean that my relationship with ELP and Emerson's playing got off to a flying start because when I first listened to Tarkus, urged by more experienced progressive-groups than me, I hardly liked it. But when I listened to Brain Salad Surgery a couple years later, things went differently because as soon as Karn Evil 9 came to its end, my eyes were left wide open and I was trying to wrap my  head around how a band without a guitar could sound like that. This was Keith Emerson's way: violent, relaxed, scary, romantic, "corny" and all of this was coming through the keyboards. The hardcore metalhead inside me could not digest it. Since then, I digged in the entire discography of the band and I admit that Brain Salad Surgery is by far my favourite.
My favourite piece is one off Tarkus, the Hymn. The introduction is by Beethoven and until the drums enter, Lake sings (with  almost ecclesiastical music as background) some of the most direct and intelligent anti-religious lyrics that my 19-year-old self had heard of at the time. It is my favourite one because back then I held the view that it was an irony to play that kind of music combined with lyrics of that sort. I like it so much, that I still can sing it, even the drum fills, no matter how long it's been since I have listened to it.
Emerson is not a hero to me, but an inspiration when it comes to setting up music and how you can tinker with the sound of an instrument and make it sound the way you want to so that it is in step with an era when the effects were almost manual. Τhe fact that for some reason he chose to end his life fills me with grief but, all the same, his music and its influence will linger much longer than him. So, the best thing we can do is listen to Pictures at an Exhibition or Trilogy, or have a good laugh with the cover of Love Beach and enjoy the legend of Keith Emerson. To quote him, "Man is Man-made".
Stelios Romaliadis (Lüüp / Vault Of Blossomed Ropes)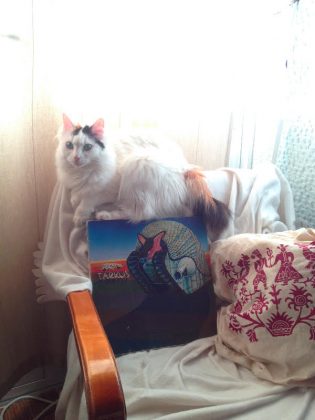 I first learned about Tarkus through a very nice column of the Greek Metal Hammer, "Monuments", where Chris Kissatzekian presented every month several albums mainly from the 70s. Excuse me that I'm going to resort to such a senile cliché, but "at that time there was no internet, so we had to search a lot to find some stuff". Thus, the column of Kissatzekian, the tributes to progressive music and psychedelia in magazines such as Zoo and Pop & Rock were priceless.
Visits to record stores in Monastiraki (Athens) were a ritual. It was there that I saw Tarkus by Emerson, Lake & Palmer with this horrible cover – an armadillo tank (?) that faces various, equally ridiculous mutant monsters on the inside of the cover. I guess in 1971 such an artwork would have some interest. The story of the armadillo is told on the first side in the 20-minute piece Tarkus, and unlike the artistic, the musical part is a delicious mix of original synth sounds, classical, jazz, heavy psychedelia and rhythm changes of "let's put as many 10/8 and 5/4 in between as we can".  The second side of the album is enjoyable too, with humorous songs, and full of technique. ELP could get different musical styles and make them their own in a comfortable and natural way. Boogie, funk, jazz, classical, pop, rock, Bach, all sculpted in a special way. An album that still sounds strange and surreally charming, representative of an era when experimentation and eccentricity was topping the charts. Today I listen repeatedly to From the Beginning from the album Trilogy. A very beautiful piece, characteristic of Greg Lake.
Goodbye Keith, thank you.
For keyboardists, Keith Emerson was anything closest to Jimi Hendrix (in terms of skill, stage presence, and revolution in the use of expression means). But in the great encyclopedia of rock, he will arguably go down as one of the cornerstones of the progressive rock. He was one of those to whom progressive rock owes everything and his tragic loss is one of the strongest blows of (inevitable) time in our favourite music genre, as far as the pioneers are concerned. His influence is so catalytic on the later musicians, both with the use of music technology (the Moog Modular synthesizer was a trademark of his sound) and by adopting a progressive compositional style that while he was rock in soul, he had direct references to classical composers as well.
Favorite album: the homonymous debut of ELP in 1970. I would rather not compare it with their (excellent) next ones, but for me, in terms of emotion alone, it is the most memorable one. Great music and sound variety and compositional maturity, despite that it's 26 years old, I believe it is the LP that really established him in the elite field.
Favourite track: Take a Pebble, also from the homonymous album of 1970. While the piece is written by Greg Lake, it is Emerson who boosts it and the synergy trio of ELP is something else. I would not choose anything pompous or staggering, as is much of the early discography of ELP, but something that has very impressive atmosphere, flirting both with jazz and folk as well. To my ears, this is my favourite Keith Emerson. The introduction is characteristically imposing, where Emerson plays the piano keys with a pen (here is again the guitar 'hint'). It is about a composition of high-level and aesthetics. Do not be afraid, though technically adventurous, here Emerson will not stab his Hammond. The truth is that, as the verse of the song goes, (disturbing the waters of our lives) he managed to disturb the waters of our musical life…
Nikitas Kissonas (Methexis)
The contribution of Keith Emerson in the course of rock music renders my report superfluous, so I will focus on how he influenced me on shaping own path by singling out my favorite moment of his. The reason of this difficulty is easily understood if you think of the piano part of Take A Pebble and Trilogy, the orchestration of Toccata and Abaddon's Bolero and of course Tarkus and Karn Evil 9 as a whole!
A composer who never camouflaged his references and even in his most characteristic compositions, the 'loans' of the 20th century music were outspoken/undisguised, something that influenced me in the most charming and instructive way, since I opened some doors that I was keeping shut out of guilt. Therefore, the moment I choose as my favorite one, is the second half of Karn Evil 9! A crescendo of orchestration having the same effect on my psyche as the epic elation of Genesis, Yes and the rest of "symphonics". But while having no intention to turn down the volume of the other two "letters" of ELP (for me, his greatness took off through this band) he has always been up to now one of the few examples of actual key-orchestra players in the history of music; the best, no less!
Being a virtuoso of a musical instrument is undoubtedly no mean feat. Being simultaneously an architect of its sound and setting new limits, influencing thousands of people is not an ordinary achievement and Keith Emerson was not an ordinary musician. The tragic finale chosen by himself was the last act of an enviable career, with hard-to-find summits of artistic and commercial nature, especially for a genre like progressive rock. Excessive and megalomaniac? Possibly, but he was at least able to support it. From the excellent rearrangements of classical pieces by the pioneers The Nice, to the raw power of live appearances where he wedged the famous knives into his synth keys, from the monstrous Moog with dozens of cable connections, like a call center at the headquarters of a telecommunications company back in the '80s to the grandiose, epic in length compositions, he formed along with Greg Lake and Carl Palmer an incarnation of what characterizes the prog rock as a genre.
Simultaneously of course as ELP they gave those who wanted to criticize prog as a whole a peg on to do so and they went further than that by trying, unsuccessfully, to put this very important musical era in a showcase like a museum exhibit, putting forward as a counterweight a ridiculously simplified proposal, keeping the technically difficult and complex compositions on the periphery of the commercial success  for several years. Of course, as history would have it, the legacy of Keith Emerson and ELP remains monumental and it is still a reference point for many contemporary artists. A last farewell, then, to Keith Emerson. Welcome my friend to the show that never ends…
Favorite Album: Tarkus (ELP). It could be anything of the triad Brain Salad Surgery / Tarkus / ELP. But the fantastic cartoon cover with the tank-armadillo and of course the self-titled epic song was what had captured my attention plus it was the first ELP album I purchased; therefore, for sentimental reasons alone… Tarkus.
Favourite track: Intermezzo Karelia Suite Op 11 No1 live (The Nice). I think this piece is the epitome of Keith Emerson as an artist. Here, the basis is Karelia Suite of Sibelius which was adapted by Keith Emerson together with The Nice and the help of an orchestra by adding electricity and throwing in an out-and-out abstract solo and experimening with sound frequencies, before leading the band and the orchestra towards the grand finale. A true masterpiece before the 70s kicked in, foreshadowing somehow what would come next.
My introduction to E.L.P. took place when I was about 13 when I came across the vinyl  of Works Vol.1 that I borrowed from a friend of my father. Certainly not their best album, but it did the trick to get me in touch and turn me on to them. In a time when I was studying classical piano and listening a lot to rock music, this album was the ultimate (and original for my green ears) combination of the two. References to classical composers such as Prokofiev, Bach, Copland and Tchaikovsky had me enthralled and Emerson's Piano Concerto No.1 stigmatized me and made me want to compose similar music myself.
Actually, my first completed compositions (never recorded, with the exception of Dance of the Dead) were pieces for classical piano style influenced by Prokofiev, Chopin, Kalomiri and Emerson. In my mind, he had always been an anarchist composer of classical music in modern times. His stage presence and high technique played their role in this picture.  Listening intensively to E.L.P.'s music for several years, I think that their best album is Brain Salad Surgery. I remember, there was a time when I and Nick (the very first bass player of Verbal Delirium) had this record spinning on repeat for months on end. However, Works will always have a special place in my heart. If I get to listen to a track of theirs right this moment (as I did when I heard the sad news of his suicide), this would naturally be Piano Concerto No.1 for the reasons I have already mentioned.