The debut album of the Swedish Skog Under Jord was probably the greatest and most pleasant surprise so far from the prog / psych scene in 2017 (our reviews here). The haunting melodies and the abventurous dark spirit of both tracks that comprise the album, as well as the veil of mystery over the identity of the band members were enough to urge us to learn more. Petros did the job and found Peter Turesson (drums), Emil Olsson (bass) and Zakarias Lindhmmar (keyboards) who were quite surprised by our interest. Skog Under Jord are the living proof of how interesting underground prog / psych music is today. One of the best albums of 2017 may come from a band without a facebook (or any other) page or even one band photo… 
Questions: Petros Papadogiannis, Dimitris Kaltsas
Translation: Petros Papadogiannis
---
Tjena! Since there is a few info on-line about the band it would be nice to provide us with a bio. 
Are Skog Under Jord a project or a full-time band?
We live very far apart from each other and thus it's not really possible to treat it as a full-time band, so at the moment it's a project. We haven't really done anything with the band since we recorded the album in early 2014, and in a way it disbanded very shortly after. But when we released the album our three core members (Emil, Peter and Zakarias) got our spirits up and decided to keep it alive. We lost our two guitarists along the way, so now we're a power-trio!
How did you come up with the name of the band? For me, there is a kind of sarcasm on your name: a forest that one must search 'underground' in order to see its beauty.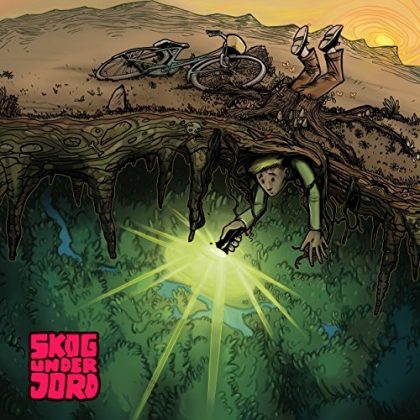 Zakarias: I think maybe I came up with the name, and honestly I just liked the sound of the words, but since it has a very vague meaning it opens up to interpretations. We like it when names and lyrics are somewhat ambigous, so the listener can experience a more personal interpretation, instead of us telling them what it's all about.
Your brilliant music seems as if it's coming directly from the early 70's. Actually one could assume that the album could have been released from an unknown band of that era. Was that your intention or simply it just happened that way due to your music background?
We conciously decided to not have a very thoughout concept. I think we had a vague idea of slightly stoneresque riffs together with a soft folksy melody. And also that nothing should be stressed, we wanted long songs, and to be able to take our time and stay within a mode or solo.
But definitely the sound is a result of our musical upbringing, so the retro sound was probably unevitable, regardless of intentions. We just really, really like jamming. 
You surely know that Sweden and rest of Scandinavian countries have a long history in progressive rock music since the late 60's. I am not quite sure you have direct influences from the bands that pioneered that sound. Am I right? Can you name me some of your main influences/musical heroes?
Zakarias: Since I play keyboards and Hammond organ on this record, so Hansson & Karlsson, and Trummor & Orgel, but especially Bo Hansson solo project.
Peter: Made In Sweden, Hansson & Karlsson, and of course Bosse Skoglund. And Jimi Hendrix.
Emil: I think we all have listened a lot to those early Swedish progressive bands from the 60's and 70's even though they may not have a direct influence on our own sound. Some of my biggest inspirations for a project like Skog Under Jord is Kvartetten som Sprängde, Dungen, Dead Meadow, Kebnekajse, and Bo Hansson. Oh, and Moon Duo!
How does the writing process go? I imagine you rehearse and jam endlessly!
Well, truth be told, we've only had one rehearsal, one live gig, and one studio recording, so we've played very little together in this constellation. Zakarias and Peter have known each other since before high school, and played in a lot of bands together.
Both songs are written by Emil and Zakarias, and consists of a riff and a melody, nothing else, but since the songs are so loosely defined Peter becomes the main arranger in the live-setting, so it's very much an equal effort between us three.
You are an instrumental band. Did you have any thoughts of including vocals as well?
Not at the moment, but aesthetically we have nothing against it. If we find an amazing vocalist that fits our musical style, it'll probably happen.
It's fair to say that your music is not for everyone. Things become more complicated with the lack of a label to promote the album. Don't you think that it should be released in physical form, especially on vinyl? It's the appropriate format for your music. Is there any interest from labels?
We would LOVE to release it on vinyl, right now it's only a lack of funds that keeps us from doing it.
Are there any plans/offers to perform your music on stage?
We have plans all the time, but we live pretty far from each other (Gothenburg, Malmö and Stockholm), so logistically it's a bit complicated. And since no one knows who we are we don't get many offers haha. But we'd absolutely LOVE to come and play in Greece somtime.
Are there any contemporary underground (or not) Swedish bands that readers of progrocks.gr should check out?
Yeah, we know a few relatively unknown bands that are great. Pershagen and Leaf. Emil also has a new project called Totempappa, which will release their debut single in a month or so.
When should we expect your next album?
Hopefully next year. If we can, we'll record new material this summer. We have some ideas for melodies, riffs and overall concepts already.
Thank you very much gentlemen! All the best to you!