A few days before the concerts of Crippled Black Phoenix in Thessaloniki and Athens, we had the pleasure to chat with Justin Greaves, the leader and soul of the band and a very sincere and grateful person.
---
 Questions: Lila Gatzioura, Dimitris Kaltsas
Hello Justin! We're very happy you are back in our country for two shows! What do you remember most from Greece?
It's a pleasure to come back to Greece of course! Overtime I've visited for shows with CBP it's been a brilliant time, so welcoming and there's a really cool vibe, not pretentious and open minded in general. I remember the great friends and fans the most, as well as exploring the towns. But the people are what I treasure the most.
Now that the official release of Bronze is just a few days away, how do you feel about it?  Is there anything special about your 8th full-length album?
I feel good, it's the first album I can actually listen to repeatedly after completing it, it hasn't got boring for me, not yet anyway! I think it is special, for a couple of reasons actually. Firstly, it sounds amazing, for ages I've wanted to capture a more live feel to the albums, some more successfully than others and I stand by everything we've recorded, but Bronze, for me, is on another level. Secondly, it is putting a few demons to rest, the last couple of years have been very tough for me and for the band, but now we've made such a good effort with the album and the vibe is better than ever, i think this album marks an important mile stone in CBP history. Things could have simply ended but this shows everyone that the music is still relevant and CBP is stronger than ever.
Would you like to share with us your experience of the recording process?  Would you say that you are satisfied with the overall result?
Well, it's nothing out of the ordinary, we just try to make sure the sound is captured in the tracking studio and we totally achieved this. Sam Harper engineered it at Chapel Studio, where we've done the last bunch of albums, but the difference this time was the fact we finished it off and mixed it with Karl Daniel Liden in Stockholm. It made a lot of important details work and the live sound was treated bang on, KD and myself were on the exact same page when it comes to the sound and the mixing methods, so it was a great experience working with him. So yeah, i'm totally satisfied, it's not the most ambitious album I've ever written, but it has more feeling, which I think is more important to impress people with tricks and technical prowess.
Is the creative process any different from one album to the other?
No, not at all, in that respect, it was exactly the same as all the previous albums right from the first one over ten years ago. I sit down with my shitty guitar and come up with the songs, then i demo them, give them a title and a theme, I send them to the other guys and we record them. Everyone who plays on the albums puts their own spin on parts which makes it more exciting for me. I think if there is a difference it's how enjoyable it was working with other people, previously i felt there was certain band guys trying to pull in a different direction and that created an unwelcome distraction, certain guys would simply do the minimal effort and then go home ,seemingly not caring about the music at all, just themselves. Now, thankfully, we don't have that, the line up is so good and everyone is on the same page, it does make a difference in the final outcome.
Last month, No Fun was the first song from the new album that came public. Would you say that this song depicts the general style of the album? Should we expect something completely different through the rest of the album?
No Fun is a song all of it's own style, it does fit really well in the album tracks, but each song is different. The album is a little heavier maybe, and it's possibly a bit darker too, but there are still the very melancholic parts, song which pull you in and require some feeling to understand. There's some really old CBP style parts on there, so no, i wouldn't say the album is something completely different, but that's my opinion, we'll see what the public think and it'll be different to my opinion i'm sure!
You and your band have come several times in Greece. Why would anyone, who has attended a Crippled Black Phoenix show before, do it again this time? Do you have any surprises for the forthcoming shows in Athens and Thessaloniki?
Well, for a start, overtime we play, we step up the game, overtime will be a little different, with different songs in the set along with the same old shit. But also i would like to say that the last time we came over a couple of years ago was a weird one. We had the spineless goons in the band who tried to sabotage the trip by not turning up for the shows and not telling us. But we came anyway because i felt we should not let anyone down and we should be honest about it even if the band wasn't fully functioning. Personally i think we did a great job and Giorgi and Arthur did an absolutely amazing job standing in on guitar and bass with only hours notice and pretty much no rehearsals. Considering that, i think our supporters and friends will see us once again firing on all cylinders, they deserve to see a proper CBP show. We've got a good setlist this time, it's 50% new songs and 50% old, i just hope that people agree with us!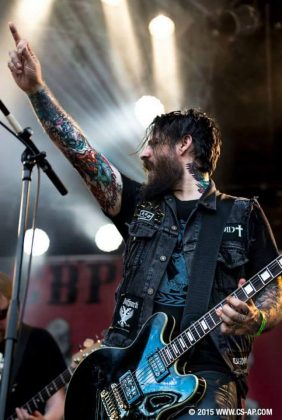 Line-up changes are quite often in the band. Has the current line-up reached your expectations?
It's by far the best CBP has ever been! So yeah, i'm really happy about that of course. It just seems everyone is in great spirits and on the same page. There's no "rock star" bitches in the band now and that makes a massive difference. We all want to enjoy what we do when we're together and now we do. Jonas and Tom have made a big difference since they joined the family, we're doing more with Belinda and the guys who've been with us for a long time, Mark, Daniel, Ben, Daisy have shown amazing support and friendship through the changes. One thing i must mention as well, is that Daisy is still on maternity leave, looking after her daughter, so she won't be with us for these upcoming Greek shows or the tour, but we have Helen with us who already toured with us throughout this past year and she is doing an amazing job, she's definitely part of CBP!
The music of Crippled Black Phoenix includes several different elements. Do you consider your music progressive and in what sense?
Well, maybe progressive in spirit, yes. I see it as just making music i want to make whatever it may be, but it's always going to be CBP sounding. I don't think we fit into the modern "prog" scene though, in fact, i don't think we fit into any scene, which can hold us back sometimes, but whatever, i don't mind that, in fact i feel better not being part of a movement, i would rather struggle in being just whatever we are, than to try to appeal to more fans and getting famous or being flavour of the month. So in that sense, it is a "progressive" mind set we have, to do whatever we want with no limitations.
Which was the happiest moment in Crippled Black Phoenix so far? How do you see the future of the band?
There's been many moments of enjoyment over the years but when we overcame the problems this year, it was definitely one of the happiest times, which leads on to the second part of your question. I simply hope we carry on with this new sense of adventure, and that we get to carry on making music and playing shows. I want to make some interesting music without pressure and pretences and i don't think i can ever give up on CBP, if i was the kind of person to give up, then i would have before now. I'm a sucker for punishment I guess.
Is there any chance for a Se Delan concert in Greece someday?
I sure hope so! That would be great! Belinda and myself are really keen on playing Se Delan shows, but because it's just the two of us, we have to wait for the right time and the right deal to make it happen. Maybe we can make some arrangements soon, i think people would dig it! I'm so proud of what we have done so far, the last album is something i really treasure, we can't keep it to ourselves forever, Se Delan shall be unleashed on stage at some point.
What music do you most listen to lately? Name some of your favourite bands and albums you've heard lately.
Right now I'm really digging stuff like Shahmen, Our Survival Depends On Us, the new Dälek album, Hawkeyes, GosT, Pinkish Black, Urfaust, Craft, Publicist UK…
Do you consider Crippled Black Phoenix as part of a scene? Do you think that the era of movements in music belongs in the past? 
Hah, i think i touched on that in a previous answer. Basically no. I have never felt part of a scene with CBP, i feel like we've never been fully accepted into any one movement, which is a blessing and a curse. One one hand it's great to be free of expectations and peer pressure to come out with the next big album in a certain style of music, but on the other hand, we feel I constantly disappoint fans by not being what they want. When people think we are one style of music it can be hard to take criticism sometimes, not because someone doesn't like the music, but because there's preconceptions at work, people thinking we are trying to be something we're not. I love it when people and fans approach CBP with an open mind and support a band like us for doing our own thing. But it's all in the ears and minds of the beholder, i can't change what people think and we can never stop people pigeon-holing us. I think that narrow minded approach to music does belong in the past to be honest, but it doesn't, things don't change in that respect, in fact, these days you could be forgiven for thinking music is more fractured than ever, movements a getting smaller and smaller.
Crippled Black Phoenix have many loyal fans here in Greece. What are your expectations for the two shows in our country?
I hold no expectations, just a hope that people come and see the shows, see us back on form, see what we're all about. And i also hope we perform well and entertain our awesome friends and supporters. We have had fans come and go all over the place, we've done good tours and bad tours, but it is always a great pleasure to visit Greece, our fans there have shown an amazing level of support every time and i can't express how much i and the rest of the band appreciate that. We only ask everyone who comes to the shows to join us in breaking down barriers and being the best CBP vigilante choir who ever sings Burnt Reynolds with us.
Thank you very much for you time Justin! The last words are yours.
Thanks. I feel a lot more like i do now, than i did when i got here.