[Rune Grammofon / Stickman Records, 2022]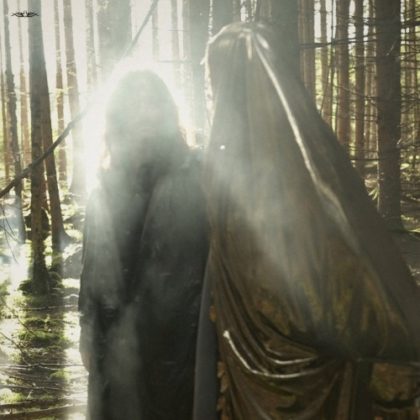 Intro: Dimitris Kaltsas

The fact that Motorpsycho released a new record just one year after Kingdom of Oblivion is no surprise. After all, this is the band's tenth album since the release of the unforgettable Heavy Metal Fruit back in 2010. One of the most prolific bands of the last several years and perhaps the best of them at such a high level of musical quality and expressive diversity is back once again and everything that came before is enough to pique our interest once more. The dioscuri Bent Sæther (bass, vocals) and Hans Magnus Ryan (guitar) along with Tomas Järmyr (drums) on his fifth consecutive studio album with the band continue to impress us extending perhaps the best period in the history of the legendary Motorpsycho.
---
– So all the Motorpsycho albums that come out every now and then are good?
– Yes.
Motorpsycho are just unstoppable, with a mood for a continuous and creative path, even after some 35 years in discography, a band that refuses to compromise and produces music with dignity and quality. A rare case of a band, the Norwegians seem to be passionately searching for the perfect balance in their sound and continue to discover new paths, roam old ones and constantly encounter new challenges that reach their ambitions.
And if their ambitions have reached a well-respected status among the top and most influential bands of the last 20 years in their field, they themselves continue to offer new evidence with their continuous progressive journeys to the past of an extremely rich sound. And besides, they're still producing an unimaginable succession of quality records, making no discounts on their vision for the future, with the same wight of, let's say, Heavy Metal Fruit from their relatively recent albums. And this happens, whether they approach concept albums with almost 90-minute durations or around 40 minutes, as they do on Ancient Astronauts.
So, Motorpsycho succeed in their new album as well, to approach various aspects of their sound with four compositions, with vintage keys, mellotron, etc. on a leading role now, but also all the fuzzy points leaving a different taste. And for example in Mona Liza / Azrael the band unfolds all its talent, in a composition that balances between the traditional 70's progressive sound and the ever present psychedelia, with a few touches that remind us of early Mars Volta improvisations. With a gradual build-up of its compositional drive and those drums and guitars, the song is one of Motorpsycho's most symphonic moments. This is music made to be performed on stage, with a strong King Crimson-esque aura. Then, with the track that closes the album and covers almost half of its duration, Motorpsycho masterfully create those atmospheric odes and gradually build on them. This is another composition with a psychedelic diversity that constantly alternates with the instrumental passages to subtly accompany this build up. An almost entirely instumental composition, with some vocal harmonies towards its end, it creates the conditions to bring the great Norwegians back into a sphere of influence that only they are capable of producing. Guitars, rhythm section, a strong mood for live experimentation and a taste of krautrock lead Chariot Of The Sun – To Phaeton on the Occasion of Sunrise (Theme From An Imagined Movie) on journeys of this superb band's continuous sonic exploration.
So, in conclusion, what is left? Ancient Astronauts is yet another powerful statement from the Norwegian maestros, an album that deserves to be in the growing catalog of an ever-expanding discography and belies any reservations about the productive momentum these gentlemen seem capable of continuing to deliver. A clear and effortless statement of the determination of the inexhaustible Motorpsycho who remain at the highest point of their influence.
8 / 10
Panos Papazoglou
2nd opinion
Even though it's one of my favorite acts of the last 30 years, I admit that for several years now I've been expecting that Motorpsycho's massive productivity would eventually lead them to a mistake, a mediocre moment or even a not-so-great record. After all they have given who could blame them anyway? The truth is that after Ancient Astronauts this possibility decreases significantly.
Structurally, the album is similar to the amazing The Crucible, as it starts with an energetic rocker (The Ladder), continues with a classical / King Crimson-esque prog epic with Hans Magnus Ryan's guitar playing shining (Mona Lisa / Azrael) and closes with a 20-minute epic (Chariot of the Sun – To Phaeton on the Occasion of Sunrise (Theme From An Imagined Movie)). The difference is that here psychedelia is more intense reaching krautrock towards the end, while prog element remains dominant. The album requires several listens to reveal its secrets and it is certain that on stage these three excellent tracks will stand out even more.
8.5 / 10
Dimitris Kaltsas