[Karisma Records, 2019]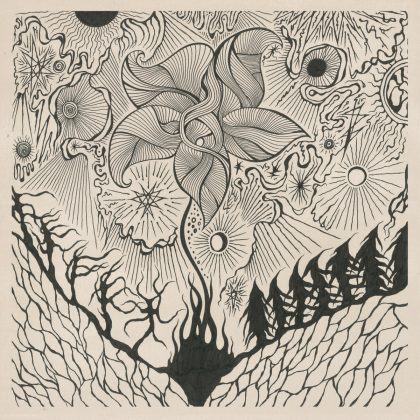 Intro: Thomas Sarakintsis
Translation: Vangelis Christodoulou
02 / 08 / 2019
Nattfiolen is the fourth full-length for the Norwegians and is at this time released by Karisma Records (while a vinyl treatment has been curated by Pancromatic, for those who will indulge). Jordsjø and Jordsjø II, their first 2 releases, have long been featured to the band's Bandcamp page and are now available in physical format. The constant duo of Håkon Oftung (known for his appearance on the medieval / pagan / prog folk rockers Tusmørke's album Bydyra as well as a series of other ensembles) and the drummer / percussionist Kristian Frøland, are back with their latest spawn since 2017 and the critically acclaimed Jord (our reviews here).
---
The haunting aura of nature
For Jordsjø, nature exemplifies their stage set. It is not by chance that Oftung uses the term forest prog to describe the band's music. On Nattfjolen, the association between nature and music is first and foremost apocalyptic and mystical, which to some extent applies to the album's predecessor.
The electric guitar is rather discreet now with the acoustic parts featured more prominently, albeit not excessively. The band's style leans even more towards folk music in balance with their symphonic side. Lyric-wise, as is so common with Scandinavian groups, the native tongue is preferred, something the prog world is familiar with.
Nattfiolen falls within a range shaped by the Trespass-era Genesis, Änglagård, White Willow (the first 3 albums), Wobbler, Jethro Tull's '77-'79 folk trilogy era, Sinkadus, Italian prog, Scandinavian and British folk music, as well as Camel.
Little variation is evident throughout the album. On Ouverture, the piano and flute alternate playfully, attempting to visualize green fertile byroads, as if to demonstrate that a brooding stroke does not belong to the scenery. An ideal beginning. Stifinner and Solens Sirkulære Sang are representative of Jordsjö's prog folk and symphonic prog style. Septemberbål is an interlude borrowing from the Norwegian as well as the British folk music school. What can be attested for Mine Templer II is that it is the album's least definitive moment, with its first incarnation on Jordsjö II constituting a superior version. Til Våren is an addictive song and the longest on the record: in case of a future anthology, it shall hold an eminent position alongside Stifinner and Solens Sirkulære Sang. Ulvenatt, the closing track, is an instrumental with the electric guitar in the leading role, while it gives off Malady-vibes, hence the Andrew Latimer connotation.
The revival of the Scandinavian prog is keeping on ceaselessly, contributing with albums of high caliber. It is certain that Nattfiolen will concern the prog aficionados while ideally it should constitute a must for all music lovers. Jordsjø offer a 40-minute long soundtrack to escape the decay of the modern civilization with, all the while reinstating nature's importance in art. An album with artistic and aesthetic stature.
8.5 / 10
Thomas Sarakintsis
2nd opinion
The Norwegian prog rockers Jordsjø are back with their new album Nattfiolen. From the start album delivers exciting, refreshing and wonderful sound. There are many similarities with their previous effort but this one has better and more mature songwriting. The band is also more focused on the emotional part of their sound and this is very obvious in each track, while the strong vintage influences are still very evident. The songs are flowing naturally, not jumping from break to break, indicating great musicianship. There is always a nice combination of keys, flute, and melancholic electric guitars. You can hear lots of great riffs, twists and turns. The lyrics are in Norwegian and I think it's a good thing because it gives a sense of mystery to the overall sound of the band. Stifinner and Til Våren are the jewels of this album that will satisfy any prog rock fan at some point. Nattfiolen is a step forward for this talented band and I hope they will offer more great records in the future.
8 / 10
Goran Petrić