[Divebomb Records, 2021]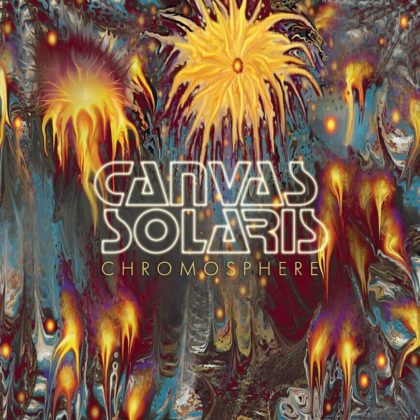 Intro: Giannis Voulgaris

Canvas Solaris' musical journey began in 1999 when guitarist Nathan Sapp and drummer Hunter Ginn founded the band. To this day, they are the regular band members and from time to time they are accompanied by musicians to release each new album. Today these members are Chris Rushing and Gael Pirlot on guitar and bass respectively. Until 2011, when Canvas Solaris disbanded, they had managed to release 5 pretty good to excellent records of high-tech progressive metal. Their music is very reminiscent of Watchtower when it's more metal, Cynic in jazz aesthetics, and King Crimson when they become more rock. But do they have something to say with their new musical proposal today? Are there any listeners who still like technical prog? Is there room for Canvas Solaris in the modern music scene, since they have been absent for almost a decade?
---
Αn exciting return, a delightful journey
Canvas Solaris return after 11 years of absence with the album entitled Chromosphere. Their instrumental progressive metal features impressive instrument gymnastics and a jazzy flair. Their use of memorable melodies set to very odd timings and rhythms makes their sound very unique and compelling. I have been a fan of them since I heard their debut album, Sublimation. The band's instrumental mix of prog, metal, and fusion really fills many needs for me and I have to admit I was a little skeptical that a long break would affect creativity, but luckily I was wrong. This is an album made up of six songs and 50 minutes of music in which these guys deliver very inspiring and refreshing material. If you think that Canvas Solaris is slowing down after ten years, you're wrong.
From the first song, Extrasolar Biosignature, I was astounded at how well they managed to work their style, from the opening build up all the way through. From there, there is not real drop off either. This an album with a unique feel and incredible technical leanings. They use everything in moderation or in a least an appropriate amount to keep things from getting carried away. The band cited Watchtower, Coroner and Toxik as their biggest influences in making this album. It is evident that the band was more focused on the progressive metal elements of these technical giants than on those that come from the thrashy department, but without any intention of copying someone's sound. They can play slow at times and even with the borderline pretentious solos they still get away with it because they use everything in the right context. It's something that's very hard to achieve in the instrumental extreme metal field.
The overall sound is somewhere between the two previous records, i.e. complex and technical, filled with spacey and atmospheric parts, only this time the keyboards have appeared sporadically mainly in the background e.g. in False Vacuum. Besides, there are very beautiful melodies to relax a little bit from the heavy and speedy race. The album is really diverse. Every track is a bit different and is demanding one's full attention all the time. The highlight of the record for me is Zero Point. It is a 13-minute journey that takes the listener through the band's abilities to effortlessly shift between complex, melodic, and jazz-influenced music. It seems like several different songs in one, with slow soulful passages stitched in between super-fast technical sequences.
Most of the instrumental and technical records released in recent years left me a little bit cold but Chromosphere is an exciting journey and I enjoyed this one a lot. It has a lot of variation and dynamics, and the musicianship is impeccable. Granted, this music is not for everyone, but if you're into instrumental metal and fusion, I highly recommend this one.
8 / 10
Goran Petrić
2nd opinion
Chromosphere was released 11 years after Irradiance and judging by the amount of music contained in its 50 minutes, I consider it quite a reasonable amount of time. Here we are dealing with an album of twisted, demanding, technical progressive metal, in the style of the band's previous releases. The music reminds me of Spiral Architect (but softer), something that fascinated me, with constant changes in riffs, rhythms and styles, while the sound has that retro mood. These very positive elements are heard in Zero Point Field and Black Drop Effect that could very well had been included in Cortical Tectonics, while Extrasolar Biosignature is also impressive. However, Canvas Solaris' music today sounds old, because contemporary instrumental music has moved forward with bands such as Animals as Leaders etc., but what they play no longer has the impact it had some years ago. This album can only be compared to their previous discography and imo this is where Chromosphere lags behind. They have great ideas, but there is no element of surprise and the songs do not seem to have been worked well enough for the standards of Canvas Solaris. This album brings back a lot of memories and if you are a fan of technical prog (like me) you can only hope for a speedy recovery of the band on the next album.
6 / 10
Giannis Voulgaris