[Self-Released, 2017]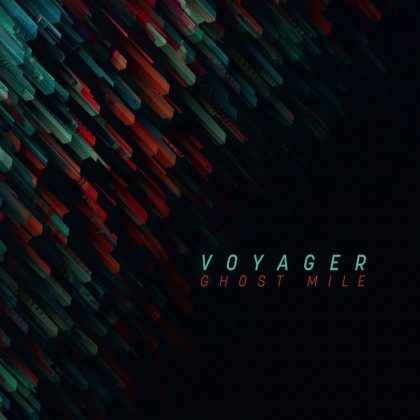 Intro: Meletis Doulgeroglou
Translation: Niki Nikolakaki
23 / 05 / 2017
The Australian music scene constitutes the surprise of this decade and insists on giving the kiss of life to progressive metal which is gasping for innovation and diversification, either through prog metal bands such as Caligula's Horse, Voyager and Teramaze, or through extreme progressive death bands such as Ne Obliviscaris, Psycroptic and many others. Voyager, who have developed their progressive metal for a decade and have brought out remarkable and interesting releases, are back again with Ghost Mile.
---
Directness in the service of prog
Τhose uninitiated in Voyager's sound will possibly expect modern progressive metal, sporadically embellished with djent riffs, several pop (though arbitrary this term might be) influences and some dark / atmospheric parts. An important catalyst in the musical reaction named Voyager is Daniel Estrin's unique and charismatic voice, which can make up a very melodic transmitter, but can also be tested out in more difficult paths. Of course, the musicians around Daniel are highly skilled and technically sufficient, as it is appropriate for a progressive band.
But what is really Ghost Mile about? Considering the comparison with his predecessor, V, as right, a release that advertised and strengthened Voyager's name in the prog scene, the present release is more straightforward, perhaps even more digestible. Of course, some typical progressive structures embellish this release, such as the title track or some passages in the final As the City Takes the Night.
On the contrary, the catchy pop references are present in the lyrics, which are engraved in the memory of the listener and this is quite obvious in compositions such as Lifeline and This Gentle Earth. What is worth noting and approving, however, is that the mixing of sounds served by Voyager is fresh and vigorously executed by musicians who have not been saturated but show an appetite for recognition. Voyager have managed to acquire a musical identity through Ghost Mile and make their sound recognizable; and this is an element missing from the progressive metal community.
Voyager are talking about the misery and feelings in life that every person is identified with, deep inner lyrics that many progressive bands choose. The narration is done through a few more than the past djent choices of the guitar duo, who offer though a plethora of powerful, metal and progressive riffs that (like most of Ghost Mile material) are imprinted on the primary auditory cerebral cortex. Unfortunately, the lead guitar parts are very limited, a section in which the guitar duo could successfully meet. Additionally, the rhythm section functions like a polished gear with quite interesting bass lines. It would be a significant omission not mentioning the keys and the dark electro-pop atmosphere they sometimes develop, and even in the most remarkable compositions such as What A Wonderful Day and Disconnected. The progressive element is found in the structure of some songs but also in measurements and rhythms. Nevertheless, it is less obvious than what we have been used to in the past, without being renounced or regarded as an accompanying element.
It is likely that you'll wonder about the often-mentioned pop element. Is it cheesy, remarkable, or does it hold a critical role in the musical outcome? The answer cannot be simple. Yes, partly it could be cheesy; it gives a more commercial tone. Yes, it has a relatively main role in Voyager's music. No, it is not blameworthy, it is their musical vision. Although Ghost Mile does not have the compositional skill of Haken's Affinity, however, the 80s pop experiment of the British sounded boring. On the contrary the Australians use it to facilitate the music flow. I consider that Voyager might bring progressive metal to the lounges that rejected it as elitist and incomprehensible.
8 / 10
Meletis Doulgeroglou
2nd opinion
In Ghost Mile, Voyager combine the experience of their previous albums with the inspiration and energy of a new band. Daniel Estrin, with his characteristic and expressive voice quality, gives us an excellent performance, while his playing the keys is the necessary touch of melody that perfectly balances with the heavy riffs and the technical rhythm. The big asset of the band, beyond their charismatic singer, is their compositional approach. Songs short in duration with an implicit air of knowledge of commerciality, while preserving the modern structures of contemporary progressive metal. The modern production -which for many bands can be a weight- is ideally used in this album. Voyager are not innovative but they definitely have their own identity and this alone is a medal. Compositions such as Disconnected, Ascension, Lifeline, As the City Takes the Night are gems and they will definitely stick with the listener.
8 / 10
Tasos Poimenidis