[Self-Released, 2017]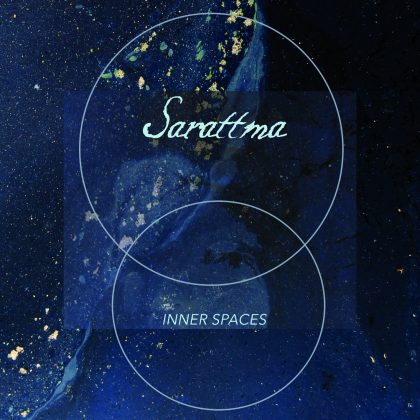 Intro: Dimitris Kaltsas
Translation: Alexandros Mantas
03 / 05 / 2017
Matt Hollenberg is not amongst the most famous guitarists of our time, simply because he opted to experiment with the underground prog / avant-garde metal / noise / metalcore field and for that reason alone. His mark left on his previous bands (iNFiNiEN, Cetus and Cleric) was developed ideally on John Zorn's Simulacrum which riveted us in 2015, as well as on the also remarkable The Painted Bird that followed up, among others.
Sarattma is the outcome of the collaboration between Hollenberg (guitar and bass) and Sara Neidorf (Scythe of Azrael, Choral Hearse) on drums and Inner Spaces consists of four tunes recorded and mixed by Steve Roche at Permanent Hearing Damage Studios in Philadelphia in September of 2012. Additional mix and mastering were handled by Hollenberg himself in 2016.
---
Above any suspicion
When the time had come to listen to Inner Spaces, I honestly was not at all braced for what would come and would be verified after multiple listens. Nowadays the music industry swarms with new bands and projects that either have no reason whatsoever to exist or they seek alibi in atmosphere, dark approach, pretentious commerciality and so on. Sarattma's straightforwardness came as no surprise, but the well-balanced ingredients of their music and their prolific ideas made up for it.
The direction of the debut could be described as a mixture of the heaviness of Neurosis (minus the extra pathogenesis when it comes to lower tempos) with the direct, vintage heavy riffing of Mastodon and the metric prog complexity of Dysrhythmia, with the difference that melody gets the better of the rhythm here. What impresses most is that their music cannot be pigeonholed, but it hovers over an imaginary point where contemporary prog, no nerve-racking math-rock, doomy post-metal and groovy stoner shack up, a music that remains dark, stripped of any pretentiousness and penetrating effortlessly into the listener's conscience as an adventurous experience that you cannot avoid to have more of it.
Here, the merciless aggressiveness of Hollenberg in Cleric and his avant-garde abstruseness in Zorn have been replaced with an unprecedented narrative which is the guide within Inner Spaces; especially when it is combined with the fairly live (and pretentiously "raw") production. Sara Neidforf's drumming invests in the straightforward playing via (though, perhaps somewhat overly) the intense snare, deprived of superfluous turns and sporting a massive and thick sound instead of the -trite now- plastic one that would take off any jam freshness from Sarattma.
Most important is that Inner Spaces sounds in its entirety (even though it is an EP) as an album that picks up steam as it progresses. Starting out with the aggressive Tannis Root, comes the first -pretty much in the vein of Meshuggah- great riff by Hollenberg, which gives way to the riff of Xenogeny while the chemistry of both musicians is showcased magnificently in their in-between prog phrases until the groovy explosion that comes after the middle part. The melody of Recovery -a highlight, which also develops just as good- acts as the title denotes. What comes next is a journey that no one should miss. The title-track, which is also the lengthiest, closes the album on a high note, as all of Sarattma's best features unfold in a more ambient and psych environment.
I have no clue how long the band worked on the four tracks of Inner Spaces and to what extent the jams that were captured were recorded on the spot. At any rate, with this outing it is fair to say that Matt Hollenberg is not merely one of the most interesting guitarists of our times, but also a gifted composer and his duet with Sara Neidorf resulted in one of the most delightful releases of the year.
8 / 10
Dimitris Kaltsas
2nd opinion
Inner Spaces, an instrumental progressive / post metal EP composed by a highly qualified duo, Matt Hollenberg on guitars/bass and Sarah Neidorf on drums, comes from the States to deliver plenty of heaviness. Almost their entire work is comprised of interesting and various riffing along with inspirational phenomenal drumming and grooving guitars. All the good ideas of the duo are memorable, while they avoid any monotony that someone may consider in an instrumental album. The sound benefits from wonderful math leanings without exaggerating in its final mixture, though the production could be better, especially on the "wooden" sound of the drums. There's no question that Hollenberg's virtuosity is in full effect and the smooth tempo changes are denatured into exploding lengthy moments. The mastery of the duo impresses throughout the album, the result remains enjoyable and exciting, lacking of tediousness or repeatability but ultimately stuffed with progressiveness and originality.
8 / 10
Dina Dede