by Dimitris Kastritis
Let's start by admitting that it is very hard to write about your experience or about any concert report while the emotions are those that play the key role. Especially, if the memories are still fresh, as in my case, you feel much more comfortable to express yourself freely to friends, without planning or bias, instead of putting down some calm coherent lines. Acknowledging the problem I'm making it clear that I will try to sound as objective as I can about what we experienced on Wednesday evening in Berlin.
When months ago during an online search I came across the news that Magma would be holding a concert in the German capital, I thought that this might be the first and my only chance to become a participant in one of the biggest concert mysteries. When I got on the train to the hostel, I realized that what was presented to us by Christian Vander and co. was simply indescribable. Any attempt to reckon what was about to follow in a live of Magma, is doomed to naivety at least.
As the starting time of the concert had been set at 20:00 and since it was my first visit to Berlin, I decided to head to KulturBraeuei quite early for a live of such momentum. While entering Kesselhaus, there was a family atmosphere with few people inside, mostly from the crew of Magma, who gave us the opportunity to applaud and cheer a bit more like fans of Christian Vander while he went backstage to get ready for the show. However, half an hour before the scheduled start of the show, people slowly began to flock to the eastern part of the city, at a point not far from where the famous wall used to separate the two worlds in the previous years.
After paying the necessary visit to the merchandise point, the time had gone by, the club was as full as it should be and we had all taken our places. Looking around I realized that there was a variety in the audience, with those of more than 40 years old being the majority, but this did not mean that young ones were not present. Anyway, at a glance, the people I saw were not of the kind that I would ever bet that they listened to rock music if I saw them across the street, and I cannot hide my joy about breaking this stereotype rule. Judging from their subsequent reactions during the concert, the assessment can only be but positive.
The eight-member band of Magma went on stage some time after 20:00 in a general apotheosis by the crowd that had almost filled the club. In short, the first act of the evening began with "Theusz Hamtaahk" with the vocals by Herve Aknin, Stella Vander and Isabelle Feuillebois magnetizing literally the whole place with their stunning synchronization on an almost atonal support directed by Christian Vander. For over 30 minutes, Magma passed through "recommendations" to the main part presenting something that honestly if you do not see in front of you, you won't believe any musician can perform like that on stage. Allow me to say that the whole feeling at that moment can be compared only to a forcible transfer in the middle of an ocean, where you try to understand what is happening and at the same time fight with each wave. You see, Vander mainly with his mastery way and with a highly leading cry during the first part managed to attract us and eject us at the same time.
When "Theusz Hamtaahk" ended and after an orgasmic applause, Stella Vander said several things about the tour and the years that the band had been active. The most striking thing was that Magma hadn't set foot in Berlin for 30 years, since 1986, as confirmed by a middle-aged German when Stella asked if anyone remembered when the last time they had played in town was. With the wall demolished and therefore the world more united than ever, the vibraphones gave the mystical shout for the start of the second act and probably the most leveling one. It was exactly 20:48 when the machine of "Mëkanïk Dëstruktïẁ Kömmandöh" set off and -believe me- the scenes that just followed cannot be described. A whole club all agog, an extrovert, massive thanks to every note that exploded into our ears and hysteria. Perhaps the applause and voices at the end of this monumental project is the best proof for what took place.
When you have been so lucky to have experienced such a concert, you automatically try to make comparisons, to rationalize it, to decode the waves that drown you. There I realized how huge Vander is… many times I made the mistake to tune with his playing but my pulses rose up so high that I gave up a few moments later. It is not an easy thing to direct a band and play like that at 68 (I doubt if there are many, say more than 5 people, who play like that close to the age of 70) and at the same time being a leader in every way. The wall, the wave if you like, which comes out of this group, this universal feeling (that does not reduce at all their profile) that generates awe, whether you're a fan or not, is of non-measurable size. And it is even more tough to conceive this if you think about the kind of music this group plays, what elements they managed to link together and especially at what time they achieved all this. They constitute a path against the most "οpposite" paths that had ever been drawn.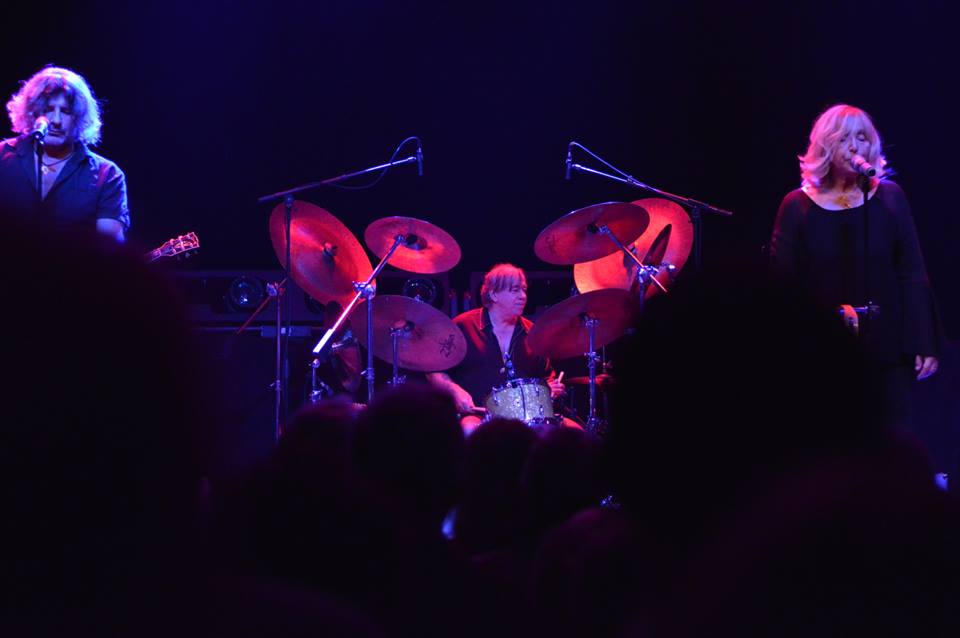 After "MDK" it was the time for the encore roughly within a quarter of an hour. This was  "Zombies", in a performance reminiscent of the most festive closing ceremony that can ever be imagined. Smiles out of pleasure, looks full of joy and peace instead of the voluptuousness and instinctive anticipation of the beginning. When they played the last note, the ending of the show had come. And even if the Germans wanted more and we all shouted almost for a quarter of an hour for a bit more, the crew tried to show with gestures that this was it.
And that's how we got the way back. I guess I failed to avoid what I wrote at the beginning, but it does not matter after all. Such things do not happen every day and personally I do not know if I will ever witness something like that again and when. What was written there is History.