by Kostas Barbas, Vangelis Christodoulou, Dina Dede, Ilias Goumagias, Paris Gravouniotis, Dimitris Kaltsas, Panagiotis Stathopoulos
Translation: Vangelis Christodoulou
It is extremely difficult to put into words what Christian Burchard has offered to music as well as the extent to which he is criminally overlooked by the wider public. The latter is of utmost importance, especially upon considering that the vast majority of all those who enjoy styles of music that he first envisioned, have not even heard of him.
The first imprint of this grand creator and (foremost) drummer was the vibraphone he played on the legendary Phallus Dei, Amon Düül II's debut album that for many defined krautrock as a genre. Right after that, Burchard left the band in order to pursue his lifelong dream: to create music with people from different countries. Thus in 1969 he formed his own band, the collective that would come to be known as Embryo. Besides each incarnation's basic members, more than 400 (!) musicians have played with Embryo over the years, notably among them being Mal Waldron, Trilok Gurtu, Ramesh Shotham, Marty Cook, Yuri Parfenov, Allan Praskin, Nick McCarthy and Monty Waters.
Through the psychedelic, progressive and experimental environment of the late 60s, Burchard redefined the krautrock sound in greater depth by combining it with jazz and sounds from different corners of the Earth, that way designating himself as the father of world / ethnic music long before the term was even first used.
His course with Embryo stopped abruptly in March 2016 after he suffered a heart attack on a (yet another) travel to Morocco. Since then it is his daughter Maria – who practically grew up within the band – that became its worthy leader. The epilogue was written on January 17th when Christian Burchard breathed his last in Münich, his hometown.
In this tribute, we chose to write about Embryo's seven probably most important albums that stand the test of time.
---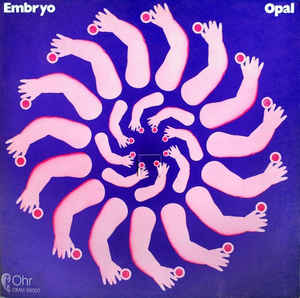 Opal
[Ohr, 1970]
1970 is essentially the year when the cultural substrata of a young bunch of German anti-conformists and their musical annex became apparent on record. Opal is the first such attempt by Christian Burchard's collective under the name Embryo. The band's christening and the fact that Pink Floyd used to play a like-named song should not be assumed as coincidental. The British group's seminal influence on krautrock's development is also obvious in Opal, an album where the manner with which the Germans interpreted the US and UK psychedelia is evident. Additionally, it stands as an example of the diversity many krautrock debut albums sport when compared to the rest of each respective band's / collective's output. Nevertheless, the characteristic jazz nuance that has followed Embryo ever since is present here, albeit the most on-point description would be that of space-rock. The whole record is sprinkled with that stardust which was able to turn the early amateur krautrock album productions into a vital part of their charm. It is a standalone diamond within Embryo's discography that even if it is not perfect, it however casts its own mysterious spell. One listen to People From Out the Space is enough to convince you.
Embryo's Rache
[United Artists, 1971]
The beginning of Embryo's musical course towards Eastern sounds starts at Embryo's Rache, where ethnic / eastern elements are introduced for the first time to the sound of the band. Those were elements that were about to dominate their albums in the future. Strongly political lyrics and particularly aggressive play feature Rache, where a heavy rhythm section blends flawlessly with layers of mellotron and flute riffs, creating a record close to the heavy progressive rock sound of the era, with jazz platitudes of band members constantly dipped at the acid nature of krautrock. Special mention must be made on the wild and ragged beauty of the cover art and the fifty seconds of the introduction of Tausendfüßler, a wonderful sample of 'prehistoric' beatboxing. The political attitude of Burchard's band is made clear in Espagna si, Franco no, the first track of the band over 10 minutes long, first in an amazing series of masterpieces that would come. Embryo's Rache was just the beginning…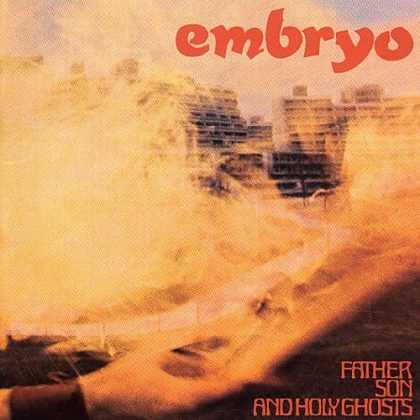 Father Son and Holy Ghosts
[United Artists, 1972]
Father, Son and Holy Ghosts, Embryo's third album, is the beginning of an orgiastic recording output period for the band, while introducing fresh references. Still revolving around the Burchard / Hoffmann core, the new Embryo incarnation includes guitarist Sigi Schwab and bassist Dave King, with both expanding their instrumental roles. Thus, the personnel is reduced to a keyboardless quartet albeit with a selection of exotic string instruments to enhance the sound and mark a turn towards a more world-music direction compared to any of their other 5 classic albums. The jazz-rock jams give way to ethnic kraut jams and experimentation while retaining the trippy psychedelic quality of a terrestrial than cosmic essence, that is if I'm allowed the distinction. Father, Son and Holy Ghosts is not as hard-edged as the rest of the albums sandwiching it and in fact sounds mellower, looser and inward-bound, but certainly not without its heavier freaky guitar-fused moments and intricate grooves. More prominently, it is one of the first world / ethnic music ambassadors, way before the term was even conceived.
Steig Aus
[Brain, 1972]
A few months after that, Embryo released Steig Aus, but with apparent differences from its predecessors, as it marks a turning point for the band. The style approaches a jazz-fusion side, and this is witnessed by the accession of the famous jazz pianist and composer, Mal Waldron (with whom Burchard was jamming already since late 60's and later in the 80's & 90's), here and in Rocksession that came after Steig Aus. The electric piano by Waldron adds some jazzier notes to the album. The introversive jamming is at its very finest, with originality and along with some ethnic elements and the psychedelic rock leanings, the meditative jazzy krautrock atmosphere is overwhelming. The album includes three unique songs. The opener, Radio Marrakesch / Orient Express, has Middle-Eastern influences, heavy bass, mellotron and hammond organ, accompanied by Burchard's great drumming. Dreaming Girls is a violin-based instrumental ballad and Call, the longest one, is divided in five parts and is in fact a great extended jamming with guitar solos, organ, marimba, violin, mellotron and some more astonishing drumming. Steig Aus is a pretty unique cross between German psychedelic rock and American electric jazz and my personal favorite.
Rocksession
[Brain, 1973]
Embryo's fifth album had to surpass a bar that had already been set extremely high and a phenomenal diversity already explored in the four previous albums. And yet, not only does Rocksession have nothing to envy, it also rightfully claims being heralded as Embryo's best album. The secret lies in the unique stylistic balance amid free-form psych / krautrock, progressive development and jazz-fusion phrasing (due to Mal Waldron) which are intersected at an imaginary crossing point. The multilayering aspect that describes Embryo's sound and performance are still here, perhaps more evidently than any time before, reinforcing the impression that more than seven musicians are involved. It is possibly the first time that we come across traces of funk in the four jams that constitute Rocksession even though the low pH and the uncompromising playing with the aggressive phrases and the stimulating solos doubtlessly prevail. Embryo's improvisational nature climaxes here leaving its timeless imprint behind. It is all the more a paradox that the seeming absence of structure far from deters. The sequence of A Place to Go, Entrances, Warm Canto and Dirge is fully capable of luring anyone into an adventurous journey of mystery.
We Keep On
[BASF, 1973]
Going through an unprecedented period of inspiration and creativity, Christian Burchard and Co. released another magnificent album. We Keep On is notable for being their sole release on the BASF label after a successful string on the historic Brain, as well as Charlie Mariano, the legendary saxophone player and one of the main ambassadors to promote the fusion of jazz with traditional music idioms from the east. The opener No Place to Go, is a unique incendiary jamming jazz-rock orgy that clocks at around 12 minutes with the quartet performing by pushing their limits. On the self-explanatory Flute And Saz and Hackbrett-Dance, Embryo employ traditional instruments such as the saz and the hackbrett (otherwise known as the tanbur and the santur) to make their way across the East. Following the same ethnic sensibilities and adding an even more distinctive fusion taste, the remarkable Abdul Malek and Ehna, Ehna, Abu Lele are up next with Roman Bunka and Dieter Miekautsch ripping it on the guitar and the keyboard / piano respectively. The closing tune, the unique and moody Don't Come Tomorrow, is curtains for a masterpiece that even today, 45 years later, manages to sound as fresh and adventurous.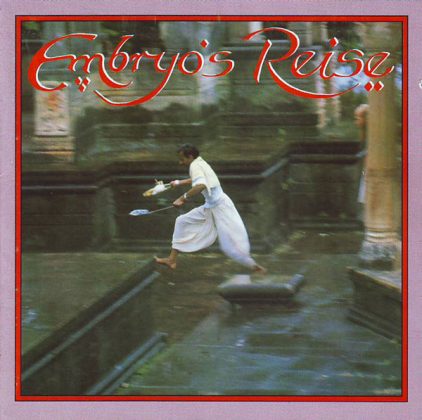 Embryo's Reise
[Schneeball, 1979]
Embryo's tenth album constitutes a piece of work of remarkable sonic depth. Conceptually and stylistically dense, it is a diverse and multidimensional recording which achieves to sound truly homogenous, cohesive and balanced through and through. By combining progressive rock ethos of a krautrock temperament and jazz-fusion improvisations that are eastbound (regarding the scales, motifs, melodies and rhythmic concepts involved), Burchard's collective delivers a collection of ecstatic compositions.
Throughout Embryo's Reise play duration, the iconic band from Münich is outstanding in reflecting its members' creativity mark both in terms of performance as well as orchestration, while they are now joining hands with several musicians from Afghanistan, Pakistan and India. Traversing through these cultures is proving constructive and the benefits are imprinted onto a double album, the snippets of which manage to sound both uncharted and familiar. It is genuinely a delectable and fascinating output of infinite implications that needs to be revisited multiple times so as to reveal the wealth of its parts and the involved music instruments. On this album, Embryo do not base their conceptions on a certain musical style or idiom. On the contrary, they inspiringly lay down the phrases of a universal language that is still striking a chord today.