Intro:  Dimitris Kaltsas
The upcoming release of Hushed and Grim is no. 8 in the back catalogue of Mastodon full-length albums starting with Remission in 2002. The transition from sludge metal and metalcore to progressive metal that later dominated, sometimes with alternative and stoner elements and thus more accessible, essentially split in two the largest percentage of the band's listeners into fans of the pre- and post-Crack the Skye period.
The elements that distinguish Mastodon are numerous. Today there are not many bands with an unchanged line-up for 20 years and such absolute devotion and identification of the band members to a common goal. The participation of three members on the lead vocals, the unique album cocncepts, Kelliher's colossal riffs of, Hinds' soulful solos, Sanders' warm basslines, and Dailor's inconceivable drumming are ideal components in every period and record of the band.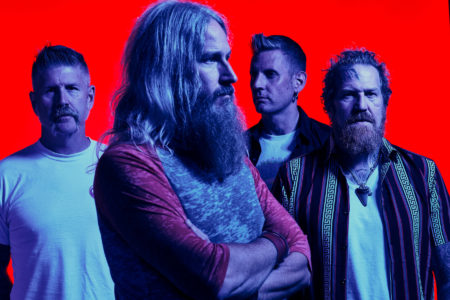 If one takes into account that this is a metal band with a dominant prog element, the fact that they have been on the forefront for about 10 years, having won a Grammy for Sultan's Curse from their latest album Emperor of Sand (2018 – Best Metal Performance) makes their success even greater. The truth is that today Mastodon are at the height of their glory, remaining for almost their entire career in a very closed group of bands that more or less do not seem to be able to write a mediocre song.
The release of Hushed and Grim on October 29 was the perfect occasion to delve a little deeper into the band's works and each of us selected 5 favorite albums and songs by Mastodon. Summing up the opinions of 19 editors, Crack the Skye topped the album list, with Leviathan coming second, while it is impressive that all 8 albums to date have been selected to a high extent.
So, aggregately, the ranking of Mastodon albums based on the preferences of the editors of Progrocks.gr is as follows:
| | | |
| --- | --- | --- |
| Album | Score | In top-5 |
| 1. Crack the Skye | 76 | 18 |
| 2. Leviathan | 56 | 18 |
| 3. The Hunter | 44 | 15 |
| 4. Once More 'Round the Sun | 42 | 12 |
| 5. Blood Mountain | 31 | 15 |
| 6. Emperor of Sand | 20 | 9 |
| 7. Remission | 20 | 7 |
(scores were obtained by assigning to each list no.1 as 5, no.2 as 4and so on)
Regarding the songs, the result was even more impressive. Our picks include 31 different tracks, i.e. 42% of the band's songs! The Czar was voted more than all others:
| | | |
| --- | --- | --- |
| Track | Score | In top-5 |
| 01. The Czar | 44 | 11 |
| 02. The Last Baron | 28 | 7 |
| 03. The Motherload | 23 | 7 |
| 04. The Sparrow | 20 | 7 |
| 05. Hearts Alive | 20 | 6 |
| 06. Blood And Thunder | 17 | 5 |
| 07. Jaguar God | 16 | 4 |
| 08. Oblivion | 14 | 5 |
| 09. Asleep in The Deep | 13 | 5 |
| 10. Megalodon | 10 | 2 |
And here are our top-5's:
 
Albums
Tracks
Dimitris Anastasiadis
Crack the Skye
The Czar
Leviathan
The Last Baron
Blood Mountain
Hearts Alive
Remission
The Motherload
Emperor of Sand
Aqua Dementia
Kostas Barbas
Crack the Skye
The Sparrow
The Hunter
The Czar
Once More 'Round the Sun
Blood and Thunder
Leviathan
The Last Baron
Emperor of Sand
Asleep in the Deep
Ilias Goumagias
Once More 'Round the Sun
Asleep in The Deep
The Hunter
The Motherload
Crack the Skye
Stargasm
Leviathan
High Road
Emperor of Sand
Oblivion
Paris Gravouniotis
Crack the Skye
The Czar
The Hunter
The Last Baron
Leviathan
Stargasm
Blood Mountain
The Sparrow
Emperor of Sand
Blood And Thunder
Dimitris Kaltsas
Emperor of Sand
The Motherload
The Hunter
Jaguar God
Crack the Skye
The Czar
Once More 'Round the Sun
The Sparrow
Leviathan
Roots Remain
Vasilis Korolis
Remission
Blood and Thunder
Leviathan
The Motherload
Blood Mountain
Oblivion
Crack the Skye
March of the Fire Ants
Emperor of Sand
Colony Of Birchmen
Christos Minos
Leviathan
Hearts Alive
Remission
The Czar
Once More 'Round the Sun
Jaguar God
Crack the Skye
The Motherload
Blood Mountain
Sleeping Giant
Eleni Panayiotou
Once More 'Round the Sun
The Motherload
Crack the Skye
Halloween
Leviathan
Show Υourself
The Hunter
Octopus Has No Friends
Blood Mountain
Bedazzled Fingernails
Petros Papadogiannis
Crack the Skye
The Czar
The Hunter
Octopus Has No Friends
Once More 'Round the Sun
Asleep in the Deep
Leviathan
Hearts Alive
Blood Mountain
Capillarian Crest
Panos Papazoglou
Leviathan
Megalodon
Crack the Skye
Hearts Alive
Blood Mountain
Crystal Skull
The Hunter
The Czar
Once More 'Round the Sun
Stargasm
Goran Petrić
Crack the Skye
The Czar
The Hunter
Jaguar God
Emperor of Sand
The Sparrow
Once More 'Round the Sun
Asleep in the Deep
Blood Mountain
Hearts Alive
Tasos Poimenidis
Crack the Skye
The Last Baron
Blood Mountain
Oblivion
Once More 'Round the Sun
Sleeping Giant
Leviathan
The Sparrow
The Hunter
Tread Lightly
Kostas Rokas
Once More 'Round the Sun
Megalodon
The Hunter
Aqua Dementia
Leviathan
Chimes at Midnight
The Hunter
Stargasm
Blood Mountain
The Motherload
Thomas Sarakintsis
Crack the Skye
Blood and Thunder
Leviathan
The Last Baron
Emperor of Sand
March of the Fire Ants
Blood Mountain
Precious Stones
Remission
Sleeping Giant
Lefteris Statharas
Crack the Skye
The Last Baron
The Hunter
The Sparrow
Remission
Elephant Man
Once More 'Round the Sun
Chimes at Μidnight
Leviathan
The Czar
Panagiotis Stathopoulos
Leviathan
Oblivion
Crack the Skye
Crack the Skye
Blood Mountain
Blood and Thunder
The Hunter
Sleeping Giant
Once More 'Round the Sun
Colony of Birchmen
Alexandros Topintzis
Crack the Skye
The Czar
Leviathan
Siberian Divide
Once More 'Round the Sun
Seabeast
Remission
Asleep in the Deep
Blood Mountain
All the Heavy Lifting
Giannis Voulgaris
Crack the Skye
The Czar
Emperor of Sand
The Last Baron
Blood Mountain
Jaguar God
The Hunter
The Sparrow
Leviathan
Sleeping Giant
Giannis Zavradinos
Leviathan
Hearts Alive
Crack the Skye
Seabeast
Remission
Capillarian Crest
Blood Mountain
March of the Fire Ants
The Hunter
Oblivion